U.S. Energy Information Administration - EIA - Independent Statistics and Analysis
‹ U.S. States
Illinois
State Profile and Energy Estimates
Profile Overview
Quick Facts
Illinois is a key transportation hub for crude oil and natural gas moving throughout North America, with eight crude oil pipelines, nine petroleum product pipelines, more than a dozen interstate natural gas pipelines, two natural gas market centers, and two oil ports.
Illinois leads the Midwest in crude oil refining capacity and ranked fourth in the nation as of January 2015.
In 2013, Illinois ranked second in the nation in recoverable coal reserves at producing mines.
With a production capacity of 1.5 billion gallons per year, Illinois is the third largest producer of ethanol.
Illinois ranked first in the nation in 2015 in both generating capacity and net electricity generation from nuclear power. Generation from nuclear power plants in Illinois accounted for more than 12% of the nation's nuclear power.
Last Updated: March 17, 2016
More Data & Analysis in Illinois
by Source
Illinois, U.S. Rankings
Today In Energy
In 2015, U.S. coal production, consumption, and employment fell by more than 10%
Nov 10, 2016
Many industrial electricity customers are farmers
May 12, 2014
Illinois at a Glance

Illinois
Energy Highlights ›
---
Household
Energy Use
Fact Sheet ›
U.S. Energy Mapping System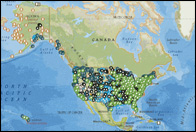 Reference
Other Resources
Play a short video to learn how to use this tool.