U.S. Energy Information Administration - EIA - Independent Statistics and Analysis
‹ U.S. States
Georgia
State Profile and Energy Estimates
Profile Overview
Quick Facts
The Elba Island, Georgia, liquefied natural gas (LNG) import terminal, with capacity to receive 1.6 billion cubic feet of natural gas per day, is adding facilities to liquefy and export up to 350 million cubic feet per day.
In February 2012, the U.S. Nuclear Regulatory Commission approved the construction of two new nuclear reactors at the Vogtle nuclear power plant in Burke County, Georgia. The two reactors have planned startup dates in 2019 and 2020.
Georgia's four existing nuclear reactor units accounted for 26% of the state's net electricity generation in 2016, coal accounted for 28%, natural gas accounted for 40%, and renewable energy, including hydroelectric power, contributed more than 6%.
Georgia leads the nation in wood pellet exports, accounting for more than one-third of the U.S. total.
In 2016, Georgia ranked 8th in the nation both in net electricity generation and in retail sales of electricity.
Last Updated: August 17, 2017
More Data & Analysis in Georgia
by Source
Georgia, U.S. Rankings
Today In Energy
Natural gas power generation share grew in Southern states for a decade as coal declined
Dec 05, 2017
California leads the nation in the adoption of electric vehicles
Dec 10, 2014
U.S. Energy Mapping System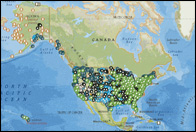 Reference
State Profiles notes and sources
Other Resources
Play a short video to learn how to use this tool.