Update: October 18, 2019 EIA has identified an issue with the factors we used to convert data measured by energy content (British thermal units) to volumetric measurements (barrels) in the International Energy Outlook 2019 oil supply tables. As a result, we have removed the relevant tables and analysis, and we are investigating the issue. Once we resolve the issue and correct any errors, we will republish the updated content. Please contact the International Energy Outlook team (InternationalEnergyOutlook@eia.gov) with any questions.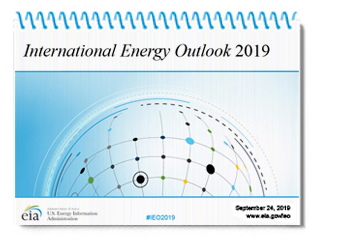 International Energy Outlook 2019
The International Energy Outlook presents an assessment by the U.S. Energy Information Administration of the outlook for international energy markets through 2050.
PDF PPT
Note: Chart data can be accessed by right-clicking the chart in the PPT file.
---
Key takeaways from the Reference case include: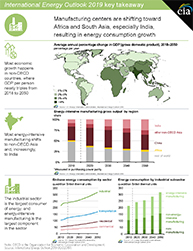 Manufacturing centers are shifting toward Africa and South Asia, especially India, resulting in energy consumption growth
click to open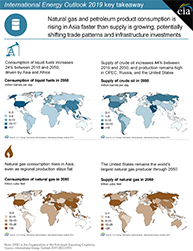 Natural gas and petroleum product consumption is rising in Asia faster than supply is growing, potentially shifting trade patterns and infrastructure investments
click to open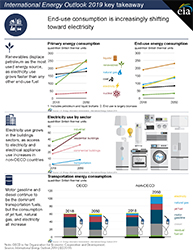 End-use consumption is increasingly shifting toward electricity
click to open
Falling costs, demand growth, and policy all work together to shift the electricity generation mix
click to open