U.S. Energy Information Administration - EIA - Independent Statistics and Analysis
‹ U.S. States
Louisiana
State Profile and Energy Estimates
Profile Overview
Quick Facts
The Henry Hub in Erath, Louisiana, where 13 major pipeline systems interconnect, is the delivery point for the benchmark natural gas futures contract traded on the New York Mercantile Exchange.
With 18 operating petroleum refineries, Louisiana is, as of January 2016, second only to Texas in both total and operating refinery capacity.
The Louisiana Offshore Oil Port (LOOP) is the only U.S. port capable of berthing Ultra Large Crude Carriers, the largest ocean-going crude oil tankers.
In early 2016, the first large-scale LNG export terminal in the Lower 48 states opened at Sabine Pass, Louisiana. The only other U.S. LNG tanker export port is in Nikiski, Alaska.
In 2014, Louisiana ranked first among the states in total energy consumption per capita, primarily because of the state's industrial sector, which includes many refineries and petrochemical plants.
Last Updated: January 19, 2017
More Data & Analysis in Louisiana
by Source
Louisiana, U.S. Rankings
Today In Energy
Energy resource permanent funds vary by purpose and state
Apr 30, 2015
Shale gas provides largest share of U.S. natural gas production in 2013
Nov 25, 2014
U.S. Energy Mapping System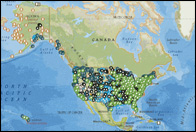 Reference
State Profiles notes and sources
Other Resources
Dain---Play a short video to learn how to use this tool.