U.S. Energy Information Administration - EIA - Independent Statistics and Analysis
‹ U.S. States
Michigan
State Profile and Energy Estimates
Profile Overview
Quick Facts
The Antrim Gas Field in Michigan's Lower Peninsula is one of the nation's top 100 natural gas fields and, in 2015, more than 90 billion cubic feet of natural gas was produced from Michigan's Antrim Shale.
In 2015, Michigan had more underground natural gas storage capacity – almost 1.1 trillion cubic feet – than any other state in the nation.
In 2016, coal-fired power plants provided 36% of Michigan's electricity generation; 2 years earlier, they had provided 50% of the state's electricity.
In 2016, Michigan's three nuclear power plants, with four reactor units, provided 28% of the state's net electricity generation.
Biomass energy from landfill gas, municipal solid waste, and wood and wood waste fueled 34% of Michigan's nonhydroelectric renewable net electricity generation in 2016.
Last Updated: May 18, 2017
More Data & Analysis in Michigan
by Source
Michigan, U.S. Rankings
Today In Energy
FERC certificates several new natural gas pipelines in 2017
Mar 07, 2017
U.S. Energy Mapping System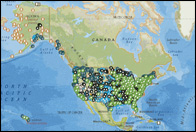 Reference
State Profiles notes and sources
Other Resources
Play a short video to learn how to use this tool.