U.S. Energy Information Administration - EIA - Independent Statistics and Analysis
‹ U.S. States
North Carolina
State Profile and Energy Estimates
Profile Overview
Quick Facts
In 2015, North Carolina was the fourth-largest producer of electricity generated from solar photovoltaics (PV) among the states; almost all of the solar generation occurred at utility-scale facilities operated by independent power producers.
Of the 689 public- and private-access biodiesel fueling stations nationwide, more than 18% are in North Carolina.
North Carolina ranked fifth in the nation in net electricity generation from nuclear power in 2015, producing 5.3% of the nation's total.
In 2015, nuclear energy contributed the largest share of North Carolina's electricity generation—32.6%— as coal's share fell to 31.4%. Natural gas-fired generation contributed most of the rest—28.3%.
In 2015, 7.1% of North Carolina's utility-scale net electricity generation came from renewable energy resources. All of the generation came from conventional hydroelectric power, biomass, and solar energy.
Last Updated: August 18, 2016
More Data & Analysis in North Carolina
by Source
North Carolina, U.S. Rankings
Today In Energy
U.S. Energy Mapping System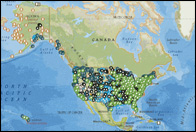 Reference
State Profiles notes and sources
Other Resources
Play a short video to learn how to use this tool.