U.S. Energy Information Administration - EIA - Independent Statistics and Analysis
‹ U.S. States
New Hampshire
State Profile and Energy Estimates
Profile Overview
Quick Facts
Nearly half of all New Hampshire households relied on fuel oil for heat in 2014.
New Hampshire is third in the nation, after Maine and Vermont, in the proportion of its net electric generation that comes from biomass, mainly wood and wood byproducts.
Seabrook, the largest nuclear power reactor in New England, provided 47% of New Hampshire's 2015 net electricity generation.
Natural gas accounted for 30% of New Hampshire's net electricity generation in 2015; the record high share for natural gas generation was 37% in 2012.
New Hampshire's renewable portfolio standard requires 24.8% of electricity sold in the state to come from renewable energy resources by 2025. Of New Hampshire's 2015 net electricity generation, 17% came from renewable energy.
Last Updated: June 16, 2016
More Data & Analysis in New Hampshire
by Source
New Hampshire, U.S. Rankings
Today In Energy
U.S. Energy Mapping System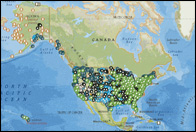 Reference
Other Resources
Play a short video to learn how to use this tool.