U.S. Energy Information Administration - EIA - Independent Statistics and Analysis
‹ U.S. States
Minnesota
State Profile and Energy Estimates
Choose a U.S. State or Territory
Profile Overview
Quick Facts
In 2015, Minnesota ranked fourth in the nation in ethanol production nameplate capacity and fifth in operating production.
The Pine Bend Refinery, the largest oil refinery in Minnesota, is the largest oil refinery located in a non-oil-producing state.
About 44% of utility-scale electricity generation in Minnesota came from coal-fired electric power plants in 2015. Most of Minnesota's coal supply comes by rail from Wyoming and Montana.
Two nuclear power plants in Minnesota, the Monticello reactor and the Prairie Island I and II reactors, accounted for 20.9% of the state's net electricity generation in 2015.
Minnesota ranked seventh in the nation in net electricity generation from wind energy in 2015. Minnesota's net generation from wind was 9.8 million megawatthours in 2015.
Last Updated: March 17, 2016
More Data & Analysis in Minnesota
by Source
Minnesota, U.S. Rankings
Today In Energy
Minnesota at a Glance
Household
Energy Use
Fact Sheet ›
U.S. Energy Mapping System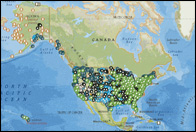 Reference
Other Resources
Play a short video to learn how to use this tool.