U.S. Energy Information Administration - EIA - Independent Statistics and Analysis
‹ U.S. States
Utah
State Profile and Energy Estimates
Profile Overview
Quick Facts
Utah produced 1.8% of U.S. coal in 2014 and shipped 30% of that production out of the state, of which just over half was exported.
Utah's five refineries process crude oil primarily from Utah, Colorado, Wyoming, and Canada; the UNEV pipeline, opened in late 2011, was the first to connect Utah's refineries to Las Vegas, the largest city in Nevada.
In 2015, coal produced less than 76% of Utah's net electricity generation and natural gas produced 19%; in 2005, coal produced 94% and natural gas, 3%. State planners expect the natural gas share to continue rising as older coal units are shut down.
Utah had the ninth lowest average electricity prices in the nation in 2015.
Utah has a voluntary goal of obtaining 20% of the state's 2025 adjusted retail electric sales from cost-effective eligible renewable energy resources; in 2015, 4.3% of utility-scale net electricity generation came from renewable resources.
Last Updated: November 17, 2016
More Data & Analysis in Utah
by Source
Utah, U.S. Rankings
Today In Energy
U.S. Energy Mapping System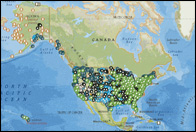 Reference
State Profiles notes and sources
Other Resources
Play a short video to learn how to use this tool.