U.S. Energy Information Administration - EIA - Independent Statistics and Analysis
‹ U.S. States
Tennessee
State Profile and Energy Estimates
Profile Overview
Quick Facts
The newly licensed Watts Bar 2 will become the nation's newest nuclear reactor when it begins commercial operations in 2016.
Almost half of the Tennessee Valley Authority's (TVA) territory is in Tennessee. The TVA operates 19 hydroelectric dams, 2 large nuclear power plants, and several other power generation facilities in the state.
At almost 9.8 million megawatthours in 2015, Tennessee's net electricity generation from hydroelectric power was the third-highest among states east of the Mississippi River, and sixth-highest in the nation as a whole.
The Southeast's first major wind farm, located on Tennessee's Buffalo Mountain near Oliver Springs, began operating as a 2 megawatt facility in 2000. The wind farm's generating capacity has been expanded to 29 megawatts.
Two utility-scale solar photovoltaic facilities in McNairy County, Tennessee, are the largest in the state and have a combined capacity of 40 megawatts.
Last Updated: May 19, 2016
More Data & Analysis in Tennessee
by Source
Tennessee, U.S. Rankings
Today In Energy
Natural gas, renewables dominate electric capacity additions in first half of 2012
Aug 20, 2012
U.S. Energy Mapping System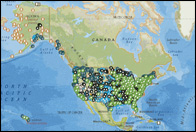 Reference
Other Resources
Play a short video to learn how to use this tool.