U.S. Energy Information Administration - EIA - Independent Statistics and Analysis
‹ U.S. States
Iowa
State Profile and Energy Estimates
Profile Overview
Quick Facts
Iowa, the largest producer of ethanol in the United States, had 25.9% of the nation's fuel ethanol manufacturing capacity in 2016.
Iowa ranked third among the states in consumption of liquefied petroleum gases (LPG) in 2014, in part because of heavy use of LPG in the industrial sector for such as activities as drying corn crops and in the residential sector for heating.
Coal's share of net electricity generation in Iowa declined from 76% in 2008 to 47% in 2016, but coal is still the state's largest source of net electricity generation.
In 2016, Iowa ranked second among the states in net electricity generation from wind and third in net electricity generation from all nonhydroelectric renewable energy resources.
Wind provided 36.6% of Iowa's total electricity generation in 2016, a larger share than in any other state. Wind was second only to coal as an energy source for electricity generation in the state.
Last Updated: March 16, 2017
More Data & Analysis in Iowa
by Source
Iowa, U.S. Rankings
Today In Energy
U.S. ethanol production capacity continues to increase
Jun 28, 2017
U.S. Energy Mapping System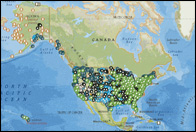 Reference
State Profiles notes and sources
Other Resources
Play a short video to learn how to use this tool.