U.S. Energy Information Administration - EIA - Independent Statistics and Analysis
‹ U.S. States
South Dakota
State Profile and Energy Estimates
Profile Overview
Quick Facts
South Dakota ranked sixth in the nation in ethanol production capacity in 2016, with 6.8% of the U.S. total.
In 2016, hydroelectric power provided the largest share (39.9%) of South Dakota's net electricity generation.
Wind power provided about 30% of South Dakota's total net electricity generation in 2016.
South Dakotans' price for electricity averaged 9.79 cents per kilowatthour in 2016 across all sectors, compared to the national average of 10.28 cents per kilowatthour.
The National Renewable Energy Laboratory estimates that about 94% of South Dakota's land area is suitable for wind resource development using current technology.
Last Updated: March 16, 2017
More Data & Analysis in South Dakota
by Source
South Dakota, U.S. Rankings
Today In Energy
U.S. Energy Mapping System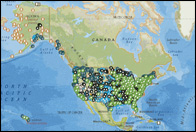 Reference
State Profiles notes and sources
Other Resources
Dain---Play a short video to learn how to use this tool.