U.S. Energy Information Administration - EIA - Independent Statistics and Analysis
‹ U.S. States
Rhode Island
State Profile and Energy Estimates
Profile Overview
Quick Facts
Rhode Island is one of only two states in the United States without coal-fired electricity generation.
Rhode Island's Port of Providence is one of two deep-water ports in New England, and it is a key regional transportation and heating fuel products hub.
Natural gas fueled 95% of Rhode Island's net electricity generation in 2015.
The first U.S. offshore wind facility is under construction three miles off Rhode Island's Block Island. The five 6-megawatt turbines are expected to begin operation in late 2016.
Rhode Island is the second-lowest emitter of carbon dioxide across all sectors among all states.
Last Updated: June 16, 2016
More Data & Analysis in Rhode Island
by Source
Rhode Island, U.S. Rankings
Today In Energy
U.S. Energy Mapping System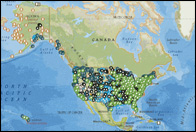 Reference
Other Resources
Play a short video to learn how to use this tool.