U.S. Energy Information Administration - EIA - Independent Statistics and Analysis
‹ U.S. States
Kentucky
State Profile and Energy Estimates
Profile Overview
Quick Facts
Kentucky, the third-largest coal-mining state, produced more than 61 million short tons of bituminous coal in 2015.
In 2015, 87% of Kentucky's net electricity generation was produced by coal and 7% by natural gas. The previous record share for natural gas was 3% of net generation.
Most of Kentucky's natural gas currently comes from the Big Sandy field in the state's east, but the Devonian Shale underlying two-thirds of Kentucky may contain more than 100 trillion cubic feet of natural gas.
Increasing amounts of customer-sited solar photovoltaic capacity have been installed across Kentucky, and the state is home to the nation's first net-zero energy public school.
In 2015, Kentucky had two oil refineries with a combined operating capacity of about 245,500 barrels per calendar day.
Last Updated: April 21, 2016
More Data & Analysis in Kentucky
by Source
Kentucky, U.S. Rankings
Today In Energy
Kentucky at a Glance
Kentucky
Energy Highlights ›
---
U.S. Energy Mapping System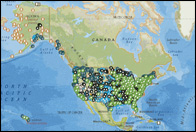 Reference
Other Resources
Play a short video to learn how to use this tool.