U.S. Energy Information Administration - EIA - Independent Statistics and Analysis
‹ U.S. States
Florida
State Profile and Energy Estimates
Choose a U.S. State or Territory
Profile Overview
Quick Facts
Geologists believe there may be large crude oil and natural gas deposits in the federal Outer Continental Shelf off of Florida's western coast.
Florida was second only to Texas in 2015 in net electricity generation, and third in the nation in electricity consumption, behind Texas and California.
Renewable energy accounted for 2.3% of Florida's total net electricity generation in 2015. Nearly nine-tenths of that renewable power came from biomass.
Five-sixths of the natural gas consumed in Florida is used to generate electricity, and natural gas fuels nearly two-thirds of Florida's net electricity generation.
Florida's Martin generating station is the only concentrating solar thermal plant east of the Rocky Mountains and produced one-fourth of the state's net solar generation in 2015.
Electricity accounts for 90% of the site energy consumed by Florida households, and the annual electricity expenditures of $1,900 are 40% higher than the U.S. average, according to EIA's Residential Energy Consumption Survey.
Last Updated: August 18, 2016
More Data & Analysis in Florida
by Source
Florida, U.S. Rankings
Today In Energy
Thanksgiving holiday causes unique electricity usage patterns across the country
Dec 05, 2016
Fort Calhoun becomes fifth U.S. nuclear plant to retire in past five years
Oct 31, 2016
Florida at a Glance
Household
Energy Use
Fact Sheet ›
U.S. Energy Mapping System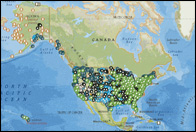 Reference
Other Resources
Play a short video to learn how to use this tool.