U.S. Energy Information Administration - EIA - Independent Statistics and Analysis
‹ U.S. States
Florida
State Profile and Energy Estimates
Profile Overview
Quick Facts
Florida is one of only four states with utility-scale electricity generation from solar thermal technologies.
Florida was second only to Texas in 2016 in net electricity generation, and third in the nation in electricity consumption, behind Texas and California.
Renewable energy accounted for almost 2.2% of Florida's utility-scale net electricity generation in 2016. Nearly nine-tenths of that renewable power came from biomass.
In 2016, almost 87% of the natural gas delivered to consumers in Florida was used to generate electricity, and natural gas fueled two-thirds of Florida's net electricity generation.
Florida's Martin generating station, the only concentrating solar thermal plant east of the Rocky Mountains, produced about 22% of the state's utility-scale net solar generation in 2016.
Last Updated: September 21, 2017
More Data & Analysis in Florida
by Source
Florida, U.S. Rankings
Today In Energy
Hurricane Irma cut power to nearly two-thirds of Florida's electricity customers
Sep 20, 2017
Hurricanes Harvey and Irma lead to higher gasoline prices in Florida
Sep 15, 2017
U.S. Energy Mapping System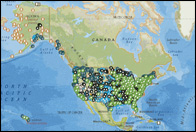 Reference
State Profiles notes and sources
Other Resources
Play a short video to learn how to use this tool.