U.S. Energy Information Administration - EIA - Independent Statistics and Analysis
‹ U.S. States
Texas
State Profile and Energy Estimates
Profile Overview
Quick Facts
In 2016, Texas was the leading oil-producing state, producing more than one-third of the nation's crude oil.
As of January 2017, the 29 petroleum refineries in Texas were able to process more than 5.6 million barrels of crude oil per day and accounted for 30% of total U.S. refining capacity.
Texas accounted for more than 25% of U.S. marketed natural gas production in 2016, making it the leading natural gas producer among the states.
Texas leads the nation in wind-powered generation capacity with more than 21,450 megawatts; since 2014, Texas wind turbines have produced more electricity than both of the state's two nuclear power plants.
Texas is the nation's largest producer of lignite coal. About 40% of the coal-fired power plants in Texas burn lignite for electricity generation.
Last Updated: January 18, 2018
More Data & Analysis in Texas
by Source
Texas, U.S. Rankings
Today In Energy
Wholesale power prices in 2017 were stable in the east, but increased in Texas, California
Jan 17, 2018
Crude oil prices increased in 2017, and Brent-WTI spread widened
Jan 03, 2018
U.S. Energy Mapping System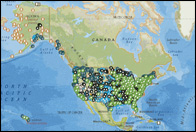 Reference
State Profiles notes and sources
Other Resources
Play a short video to learn how to use this tool.