U.S. Energy Information Administration - EIA - Independent Statistics and Analysis
‹ U.S. States
West Virginia
State Profile and Energy Estimates
Profile Overview
Quick Facts
West Virginia ranked fourth among the states in total energy production in 2013, producing 4.6% of the nation's total.
In 2014, West Virginia was the largest coal producer east of the Mississippi River and the second largest in the nation after Wyoming; the state accounted for 11% of the U.S. total coal production that year.
In 2014, almost half (50 million short tons) of the coal that was mined in West Virginia was shipped to other states, and almost one-third (34 million short tons) was exported to foreign countries.
Coal-fired electric power plants accounted for 94% of West Virginia's net electricity generation in 2015, natural gas contributed 1.8%, and renewable energy resources—primarily hydroelectric power and wind energy—contributed 3.7%.
In 2015, West Virginia was the eighth-largest natural gas-producing state in the nation, with more than 1.3 trillion cubic feet of natural gas production.
Last Updated: July 21, 2016
More Data & Analysis in West Virginia
by Source
West Virginia, U.S. Rankings
Today In Energy
FERC certificates several new natural gas pipelines in 2017
Mar 07, 2017
New infrastructure aims to increase takeaway capacity of natural gas from Utica region
Nov 22, 2016
West Virginia at a Glance

West Virginia
Energy Highlights ›
---
U.S. Energy Mapping System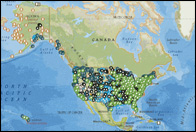 Reference
Other Resources
Play a short video to learn how to use this tool.