U.S. Energy Information Administration - EIA - Independent Statistics and Analysis
‹ U.S. States
Wyoming
State Profile and Energy Estimates
Profile Overview
Quick Facts
Wyoming produced 42% of all coal mined in the United States in 2015.
In 2015, 32 states received coal from Wyoming mines, with 10 states, including Wyoming, obtaining more than 90% of their domestic coal from Wyoming.
Wyoming accounted for 6.2% of U.S. marketed natural gas production in 2015.
In 2015, almost 88% of net electricity generation in Wyoming came from coal and nearly 11% came from renewable energy resources, primarily wind.
Wyoming had the third lowest average retail electricity rates of any state in 2015.
Last Updated: December 15, 2016
More Data & Analysis in Wyoming
by Source
Wyoming, U.S. Rankings
Today In Energy
In 2015, U.S. coal production, consumption, and employment fell by more than 10%
Nov 10, 2016
State severance tax revenues decline as fossil fuel prices drop
Jan 12, 2016
Wyoming at a Glance

Wyoming
Energy Highlights ›
U.S. Energy Mapping System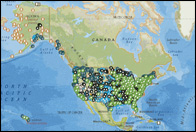 Reference
State Profiles notes and sources
Other Resources
Play a short video to learn how to use this tool.