U.S. Energy Information Administration - EIA - Independent Statistics and Analysis
‹ U.S. States
Wyoming
State Profile and Energy Estimates
Profile Overview
Quick Facts
Wyoming produced 42% of all coal mined in the United States in 2015.
In 2015, 32 states received coal from Wyoming mines, with 10 states, including Wyoming, obtaining more than 90% of their domestic coal from Wyoming.
Wyoming accounted for 6.2% of U.S. marketed natural gas production in 2015.
In 2015, almost 88% of net electricity generation in Wyoming came from coal and nearly 11% came from renewable energy resources, primarily wind.
Wyoming had the third lowest average retail electricity rates of any state in 2015.
Last Updated: December 15, 2016
More Data & Analysis in Wyoming
by Source
Wyoming, U.S. Rankings
Today In Energy
Wyoming, Texas, and Pennsylvania rank as the top net energy suppliers among states
Jul 31, 2017
In 2015, U.S. coal production, consumption, and employment fell by more than 10%
Nov 10, 2016
U.S. Energy Mapping System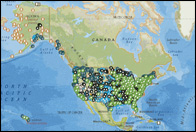 Reference
State Profiles notes and sources
Other Resources
Dain---Play a short video to learn how to use this tool.