U.S. Energy Information Administration - EIA - Independent Statistics and Analysis
‹ U.S. States
Nevada
State Profile and Energy Estimates
Profile Overview
Quick Facts
About 90% of the energy Nevada consumes comes from outside the state.
The 427-mile UNEV pipeline, opened in 2012, lets petroleum products from Salt Lake City area refineries flow to Las Vegas; previously, Las Vegas obtained petroleum products from California pipelines.
Nevada generated 73% of its electricity from natural gas in 2015.
Nevada ranked second in the nation in utility-scale net electricity generation from geothermal energy and fifth in utility-scale net generation from solar energy in 2015; 13.5% of Nevada's net electricity generation in 2015 came from those two sources.
Nevada's Energy Portfolio Standard requires that 25% of electricity sales come from renewable energy resources by 2025; in 2015, 20.3% of net electricity generation came from geothermal, solar, wind, biomass, and hydroelectric power sources.
Last Updated: December 15, 2016
More Data & Analysis in Nevada
by Source
Nevada, U.S. Rankings
Today In Energy
Utility solar photovoltaic capacity is dominated by crystalline silicon panel technology
Dec 13, 2017
U.S. Energy Mapping System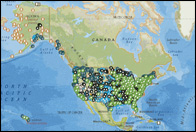 Reference
State Profiles notes and sources
Other Resources
Dain---Play a short video to learn how to use this tool.