U.S. Energy Information Administration - EIA - Independent Statistics and Analysis
‹ U.S. States
District of Columbia
State Profile and Energy Estimates
Profile Overview
Quick Facts
Although the District of Columbia uses less total energy than any state but Vermont, its energy use per capita is greater than almost one-third of the states.
In 2016, the District of Columbia led all U.S. cities in the number of Energy Star-certified buildings, surpassing several much larger cities.
One of the largest solar energy installations in Washington, DC, is located on the roof of the U.S. Department of Energy's Forrestal headquarters building. The installation generates about 230,000 kilowatthours of electricity per year.
In 2016, 73% of retail electricity sales in the District of Columbia went to the commercial sector, and less than 2% went to the industrial sector, reflecting the District of Columbia's large concentration of government buildings and museums as well as other government-related activity.
In 2016, the District of Columbia amended its renewable portfolio standard, requiring that 50% of its electricity come from renewable sources by 2032, including at least 5% from solar energy. Only four states have set higher RPS requirements.
Last Updated: July 20, 2017
More Data & Analysis in District of Columbia
by Source
District of Columbia, U.S. Rankings
Today In Energy
U.S. Energy Mapping System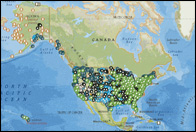 Reference
State Profiles notes and sources
Other Resources
Play a short video to learn how to use this tool.