U.S. Energy Information Administration - EIA - Independent Statistics and Analysis
‹ U.S. States
Virginia
State Profile and Energy Estimates
Profile Overview
Quick Facts
Based on proved reserves, two of Virginia's natural gas fields were ranked among the top 100 natural gas fields in the United States at the end of 2013. Virginia also ranked fourth among the states in coalbed methane proved reserves at the end of 2013.
Virginia accounted for 3.7% of U.S. coal production east of the Mississippi River in 2014. The ports in the Norfolk Customs District—America's largest coal export center—processed more than 35% of U.S. coal exports in 2015.
Natural gas provided 39% of Virginia's net generation in 2015, surpassing generation from the state's two nuclear power plants for the first time.
In 2015, the Virginia Department of Mines, Minerals, and Energy received the first federal offshore wind energy research lease issued by the U.S. Bureau of Ocean Energy Management.
Virginia established a voluntary renewable portfolio standard (RPS) to encourage investor-owned utilities to procure a portion of the electricity sold in Virginia from renewable energy resources. The RPS goal is for 15% of base year 2007 sales to come from eligible renewable energy sources by 2025.
Last Updated: August 18, 2016
More Data & Analysis in Virginia
by Source
Virginia, U.S. Rankings
Today In Energy
FERC certificates several new natural gas pipelines in 2017
Mar 07, 2017
New infrastructure aims to increase takeaway capacity of natural gas from Utica region
Nov 22, 2016
U.S. Energy Mapping System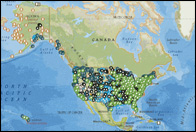 Reference
State Profiles notes and sources
Other Resources
Play a short video to learn how to use this tool.