U.S. Energy Information Administration - EIA - Independent Statistics and Analysis
‹ U.S. States
Northern Mariana Islands
Territory Profile and Energy Estimates
Profile Overview
Quick Facts
The Commonwealth of the Northern Mariana Islands (CNMI) meets nearly all of its energy demand by importing petroleum products, including 22 million to 24 million gallons of diesel fuel annually to run the islands' five electricity generating plants.
Diesel fuel surcharges on electricity in the CNMI have ranged from 24 cents to 48 cents per kilowatthour in recent years, but recent decreases in world petroleum prices have brought the surcharge down from 30 cents per kilowatthour in April 2014 to 12 cents in January 2016. The average residential electricity bill declined 52% in that period.
The Commonwealth Utilities Corp., the CNMI's public utility, has initiated an integrated resource planning (IRP) process to evaluate its long-term alternatives to petroleum-fired electricity generation.
Active volcanoes make the CNMI–particularly the islands of Pagan and Saipan–unique in Micronesia in having significant geothermal energy potential.
The CNMI's renewable portfolio standard requires 20% of net electricity sales to come from renewable energy resources by 2016 if cost-effective resources are available. So far, only small-scale wind and solar resources have been built, mostly at government and school facilities.
Last Updated: May 19, 2016
Today In Energy
U.S. Energy Mapping System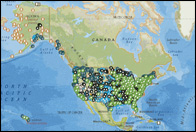 Reference
State Profiles notes and sources
Other Resources
Play a short video to learn how to use this tool.