U.S. Energy Information Administration - EIA - Independent Statistics and Analysis
‹ U.S. States
Hawaii
State Profile and Energy Estimates
Profile Overview
Quick Facts
In 2015, Hawaii imported 91% of the energy it consumed, mostly as petroleum.
With its mild tropical climate, Hawaii had the fourth-lowest per capita energy use in the nation in 2015. The transportation sector accounted for more than half (51%) of Hawaii's total energy demand in 2015, led by jet fuel use.
In 2016, Hawaii generated more solar electricity per capita from distributed facilities than any other state, and solar energy from both utility-scale and distributed resources generated 38% of Hawaii's net generation from renewable resources.
Hawaii is one of seven states with utility-scale generation from geothermal energy. In 2016, 19% of Hawaii's renewable net electricity generation came from geothermal energy.
In 2016, Hawaii had the highest electricity prices in the nation; it is the first state to set a legal deadline for producing 100% of its electricity from renewable energy sources, a target it plans to achieve by 2045.
Last Updated: October 19, 2017
More Data & Analysis in Hawaii
by Source
Hawaii, U.S. Rankings
Today In Energy
Per capita residential electricity sales in the U.S. have fallen since 2010
Jul 26, 2017
EIA electricity data now include estimated small-scale solar PV capacity and generation
Dec 02, 2015
U.S. Energy Mapping System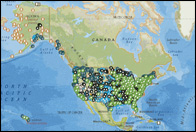 Reference
State Profiles notes and sources
Other Resources
Dain---Play a short video to learn how to use this tool.