U.S. Energy Information Administration - EIA - Independent Statistics and Analysis
‹ U.S. States
New Jersey
State Profile and Energy Estimates
Profile Overview
Quick Facts
In 2016, for the first time, natural gas provided more than half the electricity generated in New Jersey. Nuclear power provided 39%, and, together, the two fuels provided 95% of the state's net electricity generation.
New Jersey's Oyster Creek nuclear reactor, which is the oldest operating nuclear power plant in the United States, began operation in 1969 and is scheduled to shut down in 2019.
New Jersey refineries added rail access for crude oil deliveries and can receive crude oil either by rail from North Dakota or by tanker from overseas, whichever is more economic.
In 2016, solar power supplied 74% of New Jersey's renewable electricity generation from both utility and distributed (customer-sited, small-scale) sources. Nearly two-thirds of that solar electricity came from distributed solar panels.
New Jersey has adopted a renewable portfolio standard that will require nearly one-fourth of net electricity sales to come from renewable energy resources by 2021. Specific solar and offshore wind requirements are included in the standard.
Last Updated: July 20, 2017
More Data & Analysis in New Jersey
by Source
New Jersey, U.S. Rankings
Today In Energy
EIA electricity data now include estimated small-scale solar PV capacity and generation
Dec 02, 2015
Lower emissions cap for Regional Greenhouse Gas Initiative takes effect in 2014
Feb 03, 2014
U.S. Energy Mapping System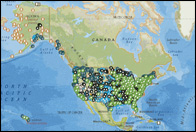 Reference
State Profiles notes and sources
Other Resources
Play a short video to learn how to use this tool.