U.S. Energy Information Administration - EIA - Independent Statistics and Analysis
‹ U.S. States
New York
State Profile and Energy Estimates
Profile Overview
Quick Facts
In 2016, for the first time, New York obtained more than 1 million megawatthours of electricity from solar generation, and 84% of that power came from distributed sources such as rooftop solar panels.
New York obtained 24% of its electricity from renewable sources in 2016; the state's Reforming the Energy Vision plan aims to raise the renewable contribution to 50% by 2030.
The 2.4-gigawatt Robert Moses Niagara hydroelectric power plant is the fourth-largest hydroelectric power plant in the United States. In 2016, New York produced more hydroelectric power than any other state east of the Rocky Mountains.
Nearly half of New York's electricity-generating units can burn either fuel oil or natural gas, and state regulators require them to be ready to switch to fuel oil if the natural gas supply is constrained.
To curb air pollution, in 2012 New York became the first northeastern state to require that all heating oil be ultra-low sulfur diesel.
Last Updated: July 20, 2017
More Data & Analysis in New York
by Source
New York, U.S. Rankings
Today In Energy
January's cold weather affects electricity generation mix in Northeast, Mid-Atlantic
Jan 23, 2018
Wyoming, Texas, and Pennsylvania rank as the top net energy suppliers among states
Jul 31, 2017
U.S. Energy Mapping System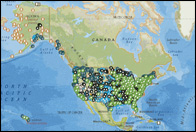 Reference
State Profiles notes and sources
Other Resources
Play a short video to learn how to use this tool.