U.S. Energy Information Administration - EIA - Independent Statistics and Analysis
‹ U.S. States
Massachusetts
State Profile and Energy Estimates
Profile Overview
Quick Facts
Massachusetts hosts three liquefied natural gas import terminals. In 2015, imports equaled about 12% of Massachusetts' demand for natural gas, down from a high of 42% in 2004, but up from a low of 6.8% in 2014.
One of the nation's two Northeast Home Heating Oil Reserves storage sites, which are intended to avert disruptions in the supply of home heating oil, is located in Revere, Massachusetts.
Massachusetts generated 66% of its electricity from natural gas and 5.8% of its electricity from coal in 2016.
In 2016, solar photovoltaic facilities, including the state's largest community solar project, comprised 88% of the new utility-scale generating capacity installed in Massachusetts.
Last Updated: June 15, 2017
In 2015, 27% of Massachusetts' households used fuel oil to meet their primary home heating needs, more than five times higher than the nationwide average of 5.1%.
More Data & Analysis in Massachusetts
by Source
Massachusetts, U.S. Rankings
Today In Energy
Mild weather, ample natural gas supply curb Northeast winter power and natural gas prices
Apr 05, 2016
EIA electricity data now include estimated small-scale solar PV capacity and generation
Dec 02, 2015
U.S. Energy Mapping System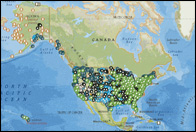 Reference
State Profiles notes and sources
Other Resources
Play a short video to learn how to use this tool.