U.S. Energy Information Administration - EIA - Independent Statistics and Analysis
‹ U.S. States
Ohio
State Profile and Energy Estimates
Profile Overview
Quick Facts
The Utica Shale has contributed to the rapid increase in natural gas production in Ohio, which was more than 12 times greater in 2015 than 2011.
Ohio had the seventh largest crude oil refining capacity in the nation in 2015.
In August 2003, a transmission failure in Ohio led to the largest blackout in North American history, affecting more than 50 million people.
Coal fueled 59% of Ohio's net electricity generation in 2015, natural gas contributed 23%, and nuclear energy accounted for another 14%.
Ohio ranked seventh in the nation in 2013 in energy consumption by the industrial sector. Output from Ohio's factories accounted for 17% of the state's gross domestic product (GDP) in 2014, and contributed 4.7% to the total U.S. manufacturing GDP in 2014.
Last Updated: April 21, 2016
More Data & Analysis in Ohio
by Source
Ohio, U.S. Rankings
Today In Energy
Ohio and Pennsylvania increased natural gas production more than other states in 2016
Apr 25, 2017
FERC certificates several new natural gas pipelines in 2017
Mar 07, 2017
U.S. Energy Mapping System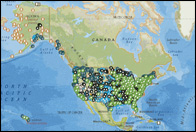 Reference
Other Resources
Play a short video to learn how to use this tool.