U.S. Energy Information Administration - EIA - Independent Statistics and Analysis
‹ U.S. States
Ohio
State Profile and Energy Estimates
Profile Overview
Quick Facts
The Utica Shale has contributed to the rapid increase in natural gas production in Ohio, which was almost 19 times greater in 2016 than 2011.
Ohio is the eighth-largest ethanol-producing state in the nation and its ethanol plants produce more than 550 million gallons of ethanol per year.
Ohio had the seventh-largest crude oil-refining capacity in the nation in 2016.
Coal fueled 58% of Ohio's net electricity generation in 2015, natural gas fueled 24%, and nuclear energy accounted for another 14%.
Wind provides the largest share (48%) of Ohio's electricity generation from renewable resources, and net generation from wind has increased substantially since construction of Ohio's first utility-scale wind farm was completed in Bowling Green in 2004.
Last Updated: May 18, 2017
More Data & Analysis in Ohio
by Source
Ohio, U.S. Rankings
Today In Energy
Appalachia region drives growth in U.S. natural gas production since 2012
Dec 04, 2017
Appalachian natural gas processing capacity key to increasing natural gas, NGPL production
Aug 29, 2017
U.S. Energy Mapping System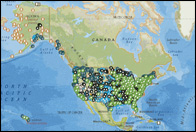 Reference
State Profiles notes and sources
Other Resources
Dain---Play a short video to learn how to use this tool.