U.S. Energy Information Administration - EIA - Independent Statistics and Analysis
‹ U.S. States
Wisconsin
State Profile and Energy Estimates
Profile Overview
Quick Facts
Wisconsin's industrial sector, which includes energy-intensive industries like the manufacure of machinery, metals, and food products, was the largest energy consuming sector in 2013, accounting for about one-third (32%) of the state's energy end-use consumption.
Coal has dominated electricity generation in Wisconsin. In 2015, coal provided 55.9% of the state's net electricity generation.
Point Beach nuclear power plant's Unit 1 reactor, one of the oldest operating reactors in the United States, started commercial operations in 1970. In 2005, Point Beach's operating license was extended 25 years (for a total of 60 years).
In 2015, 8.4% of Wisconsin's net electricity generation came from renewable energy resources, split among biomass, wind, and conventional hydroelectric power.
In 2016, Wisconsin ranked seventh in the nation in ethanol operating capacity at 537 million gallons.
Last Updated: April 21, 2016
More Data & Analysis in Wisconsin
by Source
Wisconsin, U.S. Rankings
Today In Energy
Wisconsin at a Glance
Household
Energy Use
Fact Sheet ›
U.S. Energy Mapping System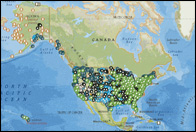 Reference
Other Resources
Play a short video to learn how to use this tool.