U.S. Energy Information Administration - EIA - Independent Statistics and Analysis
‹ U.S. States
American Samoa
Territory Profile and Energy Estimates
Profile Overview
Quick Facts
American Samoa is nearly 100% dependent on imported fossil fuels, including diesel fuel for electric power generation.
Electricity prices in American Samoa vary with world petroleum prices; in early 2016, they were 2.5 times the U.S. average, and comparable to Hawaii's rates.
A significant amount of American Samoa's electricity is used to pump and treat drinking water.
In 2015, American Samoa Power Authority obtained 2.4% of its electricity from solar, including a 1.75-megawatt utility facility and more than 700 kilowatts of customer-owned solar panels. Two solar arrays totaling 1.2 megawatts are under construction.
The American Samoa Power Authority has identified sites with wind power potential on Tutuila and is constructing its first two 100-kilowatt wind turbines.
Last Updated: May 19, 2016
Today In Energy
U.S. Energy Mapping System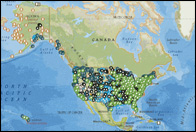 Reference
State Profiles notes and sources
Other Resources
Play a short video to learn how to use this tool.