U.S. Energy Information Administration - EIA - Independent Statistics and Analysis
‹ U.S. States
Connecticut
State Profile and Energy Estimates
Profile Overview
Quick Facts
One of the nation's two Northeast Home Heating Oil Reserve sites, which are intended to avert disruptions in the supply of home heating oil, is located in Groton, Connecticut.
More than one-third (35%) of Connecticut households used natural gas for home heating in 2015.
Among the New England states, Connecticut is second only to Massachusetts in committing demand resources (electricity use that can be turned off during periods of peak demand) to the New England grid.
In 2016, 45% of Connecticut's net electricity generation came from the 2,088-megawatt Millstone nuclear station.
In 2016, 4.2% of Connecticut's net electricity generation came from renewable energy.
Last Updated: June 15, 2017
More Data & Analysis in Connecticut
by Source
Connecticut, U.S. Rankings
Today In Energy
Recent trends in energy-related CO2 emissions vary across regions and states
Jun 03, 2014
Lower emissions cap for Regional Greenhouse Gas Initiative takes effect in 2014
Feb 03, 2014
U.S. Energy Mapping System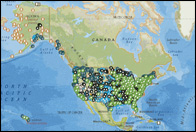 Reference
State Profiles notes and sources
Other Resources
Play a short video to learn how to use this tool.