U.S. Energy Information Administration - EIA - Independent Statistics and Analysis
‹ U.S. States
Indiana
State Profile and Energy Estimates
Profile Overview
Quick Facts
In 2015, Indiana ranked eighth among the states in coal production and third in coal consumption. The state's industrial sector was third nationwide in coal consumption.
Indiana's industrial sector, which includes manufacturers of aluminum, chemicals, glass, metal casting, and steel, consumed more energy in 2014 than the residential sector and the commercial sector combined.
As of January 2016, Indiana's Whiting oil refinery had the largest processing capacity of any refinery outside the Gulf Coast region.
Indiana is the nation's fifth largest producer of both corn and ethanol. One of every 8 gallons of U.S. ethanol production capacity is in Indiana.
A geothermal heating and cooling system is being installed at Ball State University in Muncie, Indiana, to replace an aging coal-fired power plant and enable the university to halve its carbon footprint.
Last Updated: April 20, 2017
More Data & Analysis in Indiana
by Source
Indiana, U.S. Rankings
Today In Energy
U.S. Energy Mapping System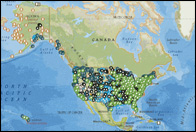 Reference
State Profiles notes and sources
Other Resources
Play a short video to learn how to use this tool.