U.S. Energy Information Administration - EIA - Independent Statistics and Analysis
‹ U.S. States
Kansas
State Profile and Energy Estimates
Profile Overview
Quick Facts
In 2015, Kansas ranked 10th in crude oil production among the 50 states, excluding the federal offshore areas.
The Hugoton Gas Area, one of the top-producing natural gas fields in the United States, extends from southwestern Kansas into the Texas and Oklahoma panhandles.
The Mid-Continent Center, located in south central Kansas, is a key natural gas supply hub that takes production from several states in the region and pipes it east to major consumption markets.
In 2015, 54% of net electricity generation in Kansas came from six coal-fired electric power plants, and 19% came from the state's single nuclear power plant.
In Kansas, wind energy has grown from less than 1% of net electricity generation in 2005 to 24% in 2015, making wind the state's second largest power provider, after coal.
Last Updated: February 16, 2017
More Data & Analysis in Kansas
by Source
Kansas, U.S. Rankings
Today In Energy
Shale gas provides largest share of U.S. natural gas production in 2013
Nov 25, 2014
Pennsylvania is the fastest-growing natural gas-producing state
Dec 17, 2013
U.S. Energy Mapping System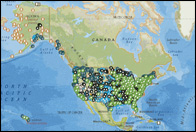 Reference
State Profiles notes and sources
Other Resources
Play a short video to learn how to use this tool.