U.S. Energy Information Administration - EIA - Independent Statistics and Analysis
‹ U.S. States
Alaska
State Profile and Energy Estimates
Profile Overview
Quick Facts
In 2015, Alaska was the fourth largest producer of crude oil among the 50 states.
The Kenai liquefied natural gas (LNG) export facility, which began operations in 1969, was the first LNG export terminal in the United States.
Many rural communities in Alaska rely primarily on diesel electric generators for power. Alaska ranked second only to Hawaii in 2015 in the share of its electricity that is generated from petroleum liquids.
Wind supplied nearly three-fourths of Alaska's electricity from nonhydroelectric renewable sources in 2015.
In 2015, Alaska was one of eight states generating electricity from geothermal energy. Alaska's geothermal power plant at Chena Hot Springs has a capacity of 730 kilowatts.
Last Updated: October 20, 2016
More Data & Analysis in Alaska
by Source
Alaska, U.S. Rankings
Today In Energy
U.S. crude oil production in 2015 was the highest since 1972, but has since declined
Nov 07, 2016
Expected decrease in Lower 48 oil production is partially offset by rising GOM output
Apr 20, 2016
Alaska at a Glance

Alaska
Energy Highlights ›
U.S. Energy Mapping System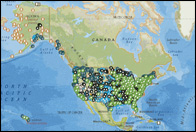 Reference
State Profiles notes and sources
Other Resources
Play a short video to learn how to use this tool.