U.S. Energy Information Administration - EIA - Independent Statistics and Analysis
‹ U.S. States
Oklahoma
State Profile and Energy Estimates
Profile Overview
Quick Facts
Excluding federal offshore areas, Oklahoma was the nation's fifth-largest crude oil producing state in 2016.
As of January 2017, Oklahoma had five operable petroleum refineries with a combined daily processing capacity of more than 511,000 barrels per day, about 2.7% of the total U.S. capacity.
Oklahoma is one of the top natural gas-producing states in the nation, accounting for 7.6% of U.S. gross production and 8.7% of marketed production in 2016.
The benchmark price in the domestic spot market for a blend of U.S. crude oils known as West Texas Intermediate (WTI) is set at Cushing, Oklahoma.
In 2016, Oklahoma ranked third in the nation in net electricity generation from wind.
Last Updated: January 18, 2018
More Data & Analysis in Oklahoma
by Source
Oklahoma, U.S. Rankings
Today In Energy
Natural gas power generation share grew in Southern states for a decade as coal declined
Dec 05, 2017
Crude oil and natural gas production in Texas and Oklahoma's Anadarko Region is growing
Aug 28, 2017
U.S. Energy Mapping System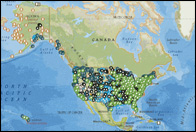 Reference
State Profiles notes and sources
Other Resources
Play a short video to learn how to use this tool.