U.S. Energy Information Administration - EIA - Independent Statistics and Analysis
‹ U.S. States
Vermont
State Profile and Energy Estimates
Profile Overview
Quick Facts
With the permanent closure of the Vermont Yankee Nuclear Plant at the end of 2014, Vermont is producing less than 40% of the electricity it consumes and depends on power from the New England grid and Canada.
In 2015, nearly all of Vermont's in-state net electricity generation was produced by renewable energy, including hydroelectric, biomass, wind, and solar resources.
Vermont has enacted the nation's first integrated renewable energy standard (RES), which makes utilities responsible both for supplying renewable electricity and for supporting reductions in customers' fossil fuel use.
Vermont has set energy goals of obtaining 67% of electricity, 30% of building energy consumption, and 10% of transportation energy from renewable sources by 2025.
One in six Vermont households uses wood products, such as wood pellets, as their primary heating source.
Last Updated: June 16, 2016
More Data & Analysis in Vermont
by Source
Vermont, U.S. Rankings
Today In Energy
Fort Calhoun becomes fifth U.S. nuclear plant to retire in past five years
Oct 31, 2016
Hawaii and Vermont set high renewable portfolio standard targets
Jun 29, 2015
U.S. Energy Mapping System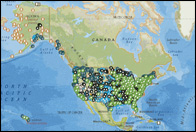 Reference
Other Resources
Play a short video to learn how to use this tool.