U.S. Energy Information Administration - EIA - Independent Statistics and Analysis
‹ U.S. States
Colorado
State Profile and Energy Estimates
Profile Overview
Quick Facts
Colorado's vast fossil fuel resources include the Niobrara Shale, with resource estimates running as high as 2 billion barrels of oil.
From 2005 to 2015, crude oil production in Colorado more than quadrupled; in the same period, marketed natural gas production rose 51%.
In 2015, 60% of the electricity generated in Colorado came from coal, 22% from natural gas, and 18% from renewable energy resources.
Colorado's Renewable Energy Standard requires investor-owned electric utilities to provide 30% of electricity sold from renewable energy sources by 2020, with 3% coming from distributed generation.
In 2015, Colorado's grid-connected solar photovoltaic capacity of 599 megawatts was the ninth largest in the United States, and the state obtained more than 6 times as much net generation from utility-scale solar facilities as it did just 5 years earlier in 2010.
Last Updated: December 15, 2016
More Data & Analysis in Colorado
by Source
Colorado, U.S. Rankings
Today In Energy
Texas leads nation in growth in oil and natural gas production jobs during 2013
Nov 05, 2014
Twelve states produced 80% of U.S. wind power in 2013
Apr 15, 2014
U.S. Energy Mapping System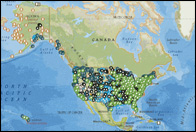 Reference
State Profiles notes and sources
Other Resources
Dain---Play a short video to learn how to use this tool.