U.S. Energy Information Administration - EIA - Independent Statistics and Analysis
‹ U.S. States
North Dakota
State Profile and Energy Estimates
Profile Overview
Quick Facts
In 2015, North Dakota was the second largest crude oil-producing state in the nation and accounted for 12.5% of total U.S. crude oil production, including oil produced in federal offshore areas.
In 2015, North Dakota had 5.3% of the nation's recoverable coal reserves at producing mines and accounted for 3.2% of U.S. coal production.
North Dakota's total energy consumption is among the lowest in the nation as a result of its small population, but the state's consumption per capita ranks among the highest, in part because of the energy-intensive industrial sector and high heating demand in winter.
In 2016, about 71% of North Dakota's net electricity generation came from coal, 21.5% came from wind energy, and about 5% came from conventional hydroelectric power.
North Dakota has abundant wind resources and ranked 9th in the nation in wind energy potential,10th in utility-scale generation, and 11th in installed capacity in 2016.
Last Updated: March 16, 2017
More Data & Analysis in North Dakota
by Source
North Dakota, U.S. Rankings
Today In Energy
Natural gas production in Bakken region increases at a faster rate than oil production
Nov 28, 2017
Wyoming, Texas, and Pennsylvania rank as the top net energy suppliers among states
Jul 31, 2017
U.S. Energy Mapping System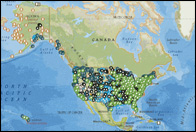 Reference
State Profiles notes and sources
Other Resources
Play a short video to learn how to use this tool.