U.S. Energy Information Administration - EIA - Independent Statistics and Analysis
‹ U.S. States
Alabama
State Profile and Energy Estimates
Profile Overview
Quick Facts
In 2014, Alabama ranked 17th in the nation in the number of producing natural gas wells.
Mobile, Alabama was the third-largest seaport for exporting U.S. coal in 2015. Coking coal used in the steelmaking process accounted for 83% of total exported coal.
The three reactors at the Browns Ferry Nuclear Plant in Limestone County, Alabama have a combined generating capacity of 3,309 megawatts, second in capacity only to Arizona's Palo Verde nuclear plant.
Alabama ranked eighth in 2015 in net electricity generation from renewable energy resources, including hydroelectric power. In 2015, conventional hydroelectric power supplied 75% of Alabama's generation from renewable resources.
Alabama has the third-largest amount of timberland acreage among the Lower 48 states. In 2015, Alabama ranked fifth in the nation in electricity generation from biomass, much it from wood and wood waste from the state's substantial forest products industry.
Last Updated: May 19, 2016
More Data & Analysis in Alabama
by Source
Alabama, U.S. Rankings
Today In Energy
U.S. Energy Mapping System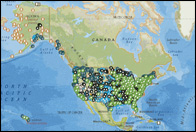 Reference
Other Resources
Play a short video to learn how to use this tool.