U.S. Energy Information Administration - EIA - Independent Statistics and Analysis
‹ U.S. States
Washington
State Profile and Energy Estimates
Profile Overview
Quick Facts
The Grand Coulee Dam on Washington's Columbia River is the largest hydroelectric power producer in the United States, with a total generating capacity of 6,809 megawatts.
In 2015, Washington was the leading producer of electricity from hydroelectric sources and accounted for 30% of the nation's utility-scale net hydroelectricity generation.
Although not a crude oil producing state, Washington ranked fifth in the nation in crude oil refining capacity as of January 2016.
Washington ranked ninth in the nation in net generation of electricity from wind energy in 2015.
In 2015, Washington had the lowest average residential retail electricity prices in the nation and the lowest average combined retail electricity price across all sectors.
Last Updated: November 17, 2016
More Data & Analysis in Washington
by Source
Washington, U.S. Rankings
Today In Energy
Northwest heat wave leads to record levels of summer electricity demand
Aug 23, 2017
U.S. wind generating capacity surpasses hydro capacity at the end of 2016
Mar 06, 2017
U.S. Energy Mapping System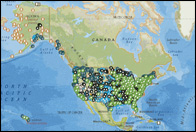 Reference
State Profiles notes and sources
Other Resources
Play a short video to learn how to use this tool.