U.S. Energy Information Administration - EIA - Independent Statistics and Analysis
‹ U.S. States
Maine
State Profile and Energy Estimates
Profile Overview
Quick Facts
Nearly 90% of Maine is forested, and wood products, including biomass fuels, are an important part of the state's rural economy.
Maine is the only New England state in which industry is the largest energy-consuming sector.
Maine had the lowest average electricity retail prices in New England at the end of 2015.
The industrial sector produces more than one-fifth of Maine's net electricity generation, the highest proportion of any state except Louisiana.
In 2015, two-thirds of Maine's net electricity generation came from renewable energy resources, with 30% from hydroelectricity, 26% from biomass (mainly wood products), and 10% from wind.
Last Updated: June 16, 2016
More Data & Analysis in Maine
by Source
Maine, U.S. Rankings
Today In Energy
Northern Maine considers options to gain direct access to New England electric grid
Jan 22, 2015
Lower emissions cap for Regional Greenhouse Gas Initiative takes effect in 2014
Feb 03, 2014
U.S. Energy Mapping System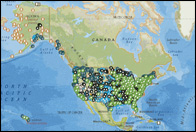 Reference
Other Resources
Play a short video to learn how to use this tool.