U.S. Energy Information Administration - EIA - Independent Statistics and Analysis
‹ U.S. States
Pennsylvania
State Profile and Energy Estimates
Profile Overview
Quick Facts
Pennsylvania's annual gross natural gas production, primarily from the Marcellus Shale, exceeded 4 trillion cubic feet in 2014, doubling the state's 2012 production and making Pennsylvania the nation's second-largest natural gas producer.
Pennsylvania was the fourth-largest coal-producing state in the nation in 2014 and the only state producing anthracite coal, which has a higher heat value than other kinds of coal.
In 2015, Pennsylvania ranked second in the nation in electricity generation from nuclear power. The state obtained 37.2% of its net electricity generation from nuclear power, more than from any other source.
Pennsylvania's Alternative Energy Portfolio Standards require 18% of electricity sold by 2021 to come from approved renewable or alternative sources, including at least 0.5% solar photovoltaic power. In 2015, renewable energy accounted for 4% of Pennsylvania's net electricity generation.
As of 2014, 51% of Pennsylvania households used natural gas as their primary home heating fuel, while 21% depended on electricity for heat and 19% relied on fuel oil. Other heating fuels used in the state included propane, wood, and coal.
Last Updated: July 21, 2016
More Data & Analysis in Pennsylvania
by Source
Pennsylvania, U.S. Rankings
Today In Energy
FERC certificates several new natural gas pipelines in 2017
Mar 07, 2017
New infrastructure aims to increase takeaway capacity of natural gas from Utica region
Nov 22, 2016
Pennsylvania at a Glance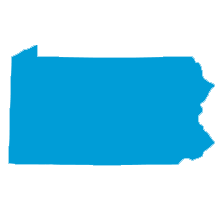 Pennsylvania
Energy Highlights ›
---
U.S. Energy Mapping System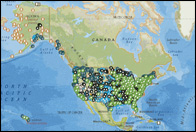 Reference
Other Resources
Play a short video to learn how to use this tool.