U.S. Energy Information Administration - EIA - Independent Statistics and Analysis
‹ U.S. States
Puerto Rico
Territory Profile and Energy Estimates
Profile Overview
Quick Facts
Petroleum products fuel transportation, electricity generation, and industry in Puerto Rico, supplying four-fifths of the energy consumed in the commonwealth.
In 2015, 51% of Puerto Rico's electricity came from petroleum, 31% from natural gas, 16% from coal, and 2% from renewable energy.
Two wind farms supplied nearly two-thirds of Puerto Rico's renewable generation in 2015; one of them, the 95-megawatt Santa Isabel facility, is the largest wind farm in the Caribbean.
From July 2012 to April 2015, distributed solar photovoltaic generating capacity in Puerto Rico increased by a factor of nine, bringing distributed solar capacity to 37 megawatts. Solar capacity at utility-scale installations totaled 52 megawatts.
Electricity fuel surcharges decreased as the price of oil dropped during 2015, but Puerto Rico's retail consumers still paid more for their power than consumers in any state except Hawaii.
Last Updated: March 17, 2016
Today In Energy
U.S. Energy Mapping System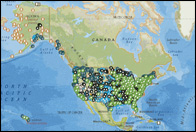 Reference
State Profiles notes and sources
Other Resources
Play a short video to learn how to use this tool.