U.S. Energy Information Administration - EIA - Independent Statistics and Analysis
‹ U.S. States
New Mexico
State Profile and Energy Estimates
Profile Overview
Quick Facts
Excluding federal offshore areas, New Mexico ranked sixth in crude oil production in the nation in 2015.
New Mexico's marketed production of natural gas rose in the past three years to account for 4.3% of U.S. marketed natural gas production in 2015, which was nevertheless a 27% decline from its 2000 peak.
New Mexico has 26% of the nation's coalbed methane proved reserves, second only to Colorado in the United States.
In 2015, New Mexico ranked sixth in the nation in utility-scale electricity generation from solar energy.
New Mexico reservations have abundant renewable energy potential, including solar, wind, geothermal, and biomass resources.
Last Updated: January 19, 2017
More Data & Analysis in New Mexico
by Source
New Mexico, U.S. Rankings
Today In Energy
U.S. Energy Mapping System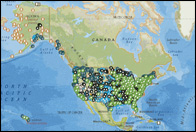 Reference
State Profiles notes and sources
Other Resources
Dain---Play a short video to learn how to use this tool.