U.S. Energy Information Administration - EIA - Independent Statistics and Analysis
‹ U.S. States
Mississippi
State Profile and Energy Estimates
Profile Overview
Quick Facts
The Gulf Liquefied Natural Gas terminal at Pascagoula, Mississippi was designed to send imported natural gas by pipeline to users throughout the South. Because of changing market conditions, plans to add liquefaction and export capabilities are being pursued.
As of January 2015, the Pascagoula oil refinery is the 11th-largest refinery by capacity in the United States. The Pascagoula refinery is able to process about 330,000 barrels of crude oil per calendar day.
The 1,443 megawatt Grand Gulf Nuclear Station, near Port Gibson along the Mississippi River, is the largest single-unit nuclear power plant in the nation. In 2015, it generated 18% of Mississippi's electricity.
Mississippi's one ethanol plant can produce 54 million gallons of biofuel annually, equal to 0.34% of total U.S. ethanol production capacity.
Mississippi generated nearly 2.3% of its electricity from renewable energy resources during 2015, with wood and wood waste accounting for almost all of the state's renewable electricity generation.
Last Updated: May 19, 2016
More Data & Analysis in Mississippi
by Source
Mississippi, U.S. Rankings
Today In Energy
EIA improves state-level monthly oil production estimates with up to 10 years of revisions
Oct 09, 2012
Mississippi at a Glance
Household
Energy Use
Fact Sheet ›
U.S. Energy Mapping System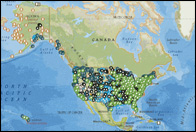 Reference
Other Resources
Play a short video to learn how to use this tool.