U.S. Energy Information Administration - EIA - Independent Statistics and Analysis
‹ U.S. States
Nebraska
State Profile and Energy Estimates
Profile Overview
Quick Facts
Nebraska ranked second in the nation, after Iowa, in corn-based ethanol production capacity in 2016.
Nebraska has obtained about three-fifths of its net electricity generation from coal and about one-fourth from nuclear power, but one of its two nuclear plants was shut permanently in late 2016.
The National Renewable Energy Laboratory estimates that more than 90% of Nebraska has suitable conditions for commercial-scale wind-powered electricity generation.
Nebraska is among the top 10 states in per capita energy consumption because of its energy-intensive industrial sector, led by food processing, chemical manufacturing, and agriculture.
Farm irrigation is electricity-intensive and seasonal; it entails high costs for electricity that increase the average reported cost of electricity for Nebraska's industrial sector.

In 2015, Nebraska obtained more than 10% of its total net electricity generation from renewables, and wind supplied almost three-fourths of the renewable generation.
Last Updated: February 16, 2017
More Data & Analysis in Nebraska
by Source
Nebraska, U.S. Rankings
Today In Energy
U.S. Energy Mapping System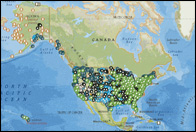 Reference
State Profiles notes and sources
Other Resources
Play a short video to learn how to use this tool.