U.S. Energy Information Administration - EIA - Independent Statistics and Analysis
‹ U.S. States
California
State Profile and Energy Estimates
Profile Overview
Quick Facts
Excluding federal offshore areas, California ranked third in the nation in crude oil production in 2015, despite an overall decline in production since the mid-1980s.
California ranked third in the nation in oil refining capacity as of January 2016, with a combined capacity of almost 2 million barrels per calendar day from the state's 18 operable refineries.
In 2014, California's per capita energy consumption ranked 49th in the nation; the state's low use of energy was due in part to its mild climate and its energy efficiency programs.
In 2015, California ranked fourth in the nation in conventional hydroelectric generation, second in net electricity generation from all other renewable energy resources, and first as a producer of electricity from biomass, geothermal, and solar energy.
In 2015, California ranked 15th in net electricity generation from nuclear power after one of the state's two nuclear plants, the San Onofre Nuclear Generating Station, permanently ceased operations in June 2013.
Last Updated: October 20, 2016
More Data & Analysis in California
by Source
California, U.S. Rankings
Today In Energy
California increased electricity imports and natural gas generation during solar eclipse
Aug 24, 2017
Solar eclipse on August 21 will affect photovoltaic generators across the country
Aug 07, 2017
California at a Glance
Southern
California Daily
Energy Report ›
---

California
Energy Highlights ›
U.S. Energy Mapping System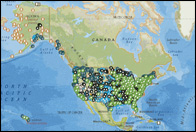 Reference
State Profiles notes and sources
Other Resources
Play a short video to learn how to use this tool.