Natural Gas
Natural Gas Consumption. Total domestic U.S. natural gas consumption averaged an estimated 85.3 billion cubic feet per day (Bcf/d) in 2019, and EIA expects it will increase by 1.4 Bcf/d (1.7%) in 2020 before decreasing by 1.0 Bcf/d (1.2%) in 2021.
The largest natural gas consuming sector in the United States is the electric power sector. EIA estimates that electric generation consumed an average 31.0 Bcf/d in 2019, up 7.0% from 2018 because of new natural gas-fired electric generation capacity and competitive natural gas prices. EIA forecasts growth in power sector consumption of natural gas to slow in 2020, increasing by 1.3% before decreasing by 3.2% in 2021. Declining power sector consumption in 2021 reflects increased competition from renewable sources of electricity generation as a result of continuing renewables capacity additions. Declining natural gas consumption also reflects a forecast of higher natural gas spot prices in 2021 compared with 2020, which would make natural gas less competitive against coal in power markets.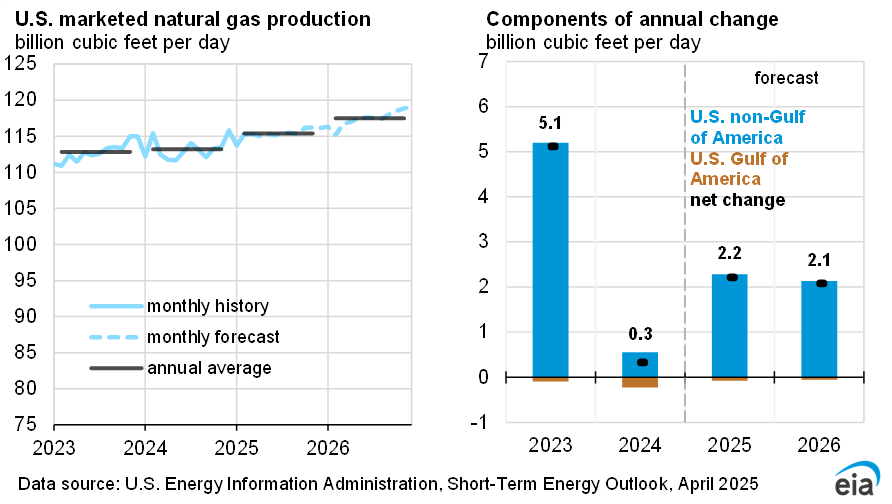 EIA expects combined residential and commercial natural gas consumption will average 23.2 Bcf/d in 2020, down 1.0% from 2019. The lower consumption reflects lower forecast space heating demand. Based on forecasts by the National Oceanic and Atmospheric Administration (NOAA), EIA forecasts 1.8% fewer heating degree days (HDD) in 2020 compared with 2019. Natural gas consumption in the residential and commercial sectors is expected to decline by 0.9% in 2021, based on a forecast decline in HDD of 0.7% in 2021.
EIA forecasts U.S. industrial sector consumption of natural gas to rise by 4.6% in 2020 and then remain flat in 2021. Most of the 2020 increase in the forecast is the result of new chemical projects. Low natural gas prices in recent years have made it economical to increase use of natural gas as feedstock in ammonia for nitrogenous fertilizer and methanol manufacturers. Two methanol plants plan to come online by the end of 2020, including a methanol plant in St. James, Louisiana, which would be the second-largest methanol facility in the United States after a facility in Beaumont, Texas, which entered service in June 2018.
Natural Gas Production and Trade. EIA estimates that dry natural gas production in the United States will average 94.7 Bcf/d in 2020, up 2.9% from 2019. In 2021, EIA's forecast production declines by 0.7% to an average of 94.1 Bcf/d for the year. EIA's expected growth in natural gas production for 2020 is largely in response to improved drilling efficiency and cost reductions, higher associated gas production from oil-directed rigs, and increased takeaway pipeline capacity from the Appalachian and Permian production regions. Forecast natural gas production growth is also supported by planned expansions in liquefied natural gas (LNG) capacity and increased pipeline exports to Mexico. The decline in natural gas production in 2021 is in response to a forecast of low natural gas spot prices in 2020 that reduces drilling activity in the Appalachian Basin.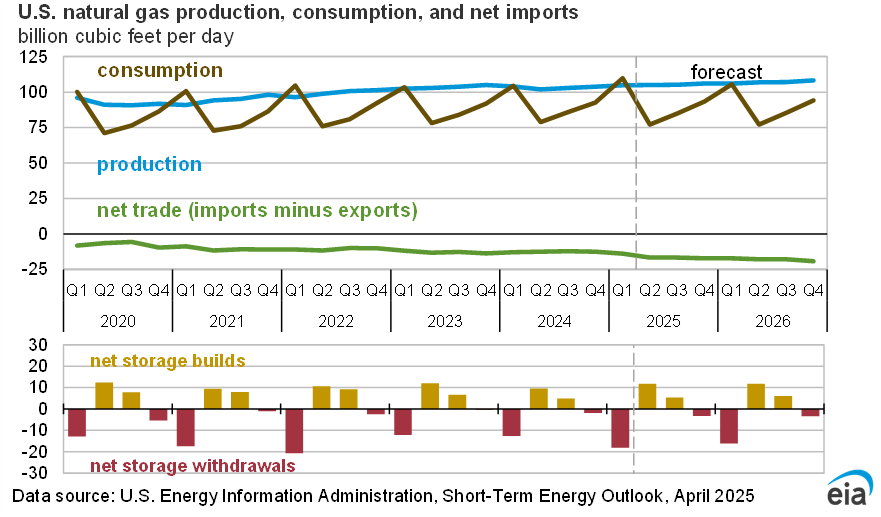 The United States exported more natural gas than it imported in 2019, with net exports averaging 5.3 Bcf/d, up 2.0 Bcf/d from 2018. EIA forecasts net natural gas exports will rise to average 7.3 Bcf/d in 2020 and 8.9 Bcf/d in 2021. Rising LNG exports and pipeline exports changed the United States from its long history as net importer of natural gas, which it had been as recently first quarter of 2017. EIA estimates that U.S. LNG exports averaged 5.0 Bcf/d in 2019. EIA expects LNG exports will increase to 6.5 Bcf/d in 2020 and 7.7 Bcf/d in 2021.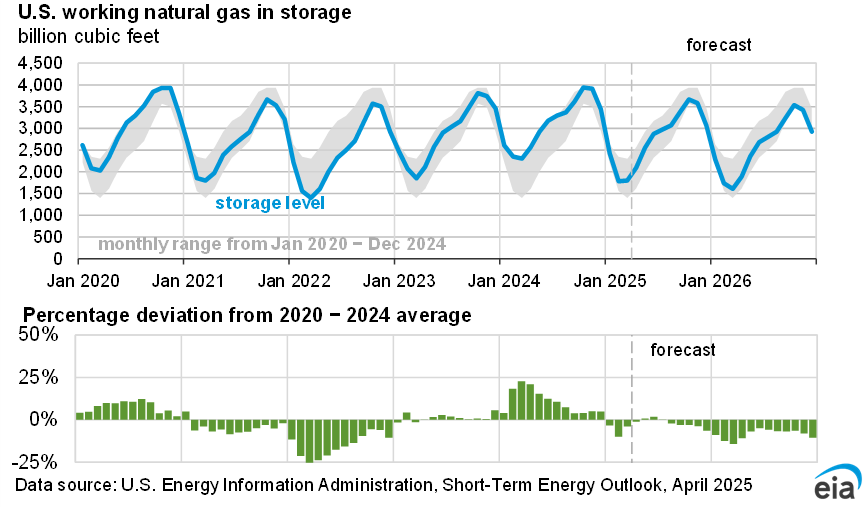 In 2020, EIA assumes U.S. LNG export capacity will reach 8.9 Bcf/d by the end of the year as Cameron, Freeport, and Elba Island place their remaining trains in service. Cameron Trains 2 and 3 are expected to begin production in April and July of 2020, respectively, and Freeport Train 3 is set to start in May 2020. Elba Island shipped its first LNG export cargo in December 2019 after placing the first three of its Moveable Modular Liquefaction System (MMLS) units in service. EIA assumes that the remaining Trains 4–10 at Elba Island will be placed in service by the middle of 2020. In 2021, EIA expects the third train at Corpus Christi facility in Texas to come online, bringing the total baseload U.S. liquefaction capacity to 9.5 Bcf/d. The additional capacity will drive continuing growth in LNG exports to an annual average of 7.7 Bcf/d in 2021, as facilities gradually ramp up to full production.
U.S. natural gas exports to Mexico via pipeline have also increased as more infrastructure has been built to transport natural gas both to and within Mexico. U.S. pipeline exports to Mexico through October averaged 5.1 Bcf/d, increasing by 10% in 2019 compared with the same period in 2018. Exports to Mexico should continue to increase as more natural gas-fired power plants come online in Mexico and more pipeline infrastructure within Mexico is built.
U.S. net natural gas pipeline imports from Canada decreased from 2018 to 2019, continuing a trend that began in 2008. This decrease in net imports is expected to continue as Appalachian production growth displaces some of Canada's natural gas imports in the U.S. Midwest markets.
Natural Gas Inventories. As of January 3, 2020, U.S. working gas inventories were 3,148 billion cubic feet (Bcf), 20% higher than the year-ago level and 2% higher than the five-year (2015–19) average level. After beginning 2019 with stocks much lower than the five-year (2014–18) average, record levels of natural gas production led to storage injections exceeding the five-year average throughout 2019.
Based on an assumption of milder winter temperatures in the first quarter of 2020, along with a forecast of growing natural gas production, EIA forecasts that total inventories will be 1,807 Bcf at the end of March, which would be 5% higher than the five-year average for that time of year. For the 2020 storage injection season, EIA expects injections will exceed the five-year average rate as production outpaces consumption and exports from the end of March through October. EIA expects that inventories will reach 4,016 Bcf at the end of October 2020, which would be 7% higher than the previous five-year average for the end of October and 7% higher than at the end of October 2019.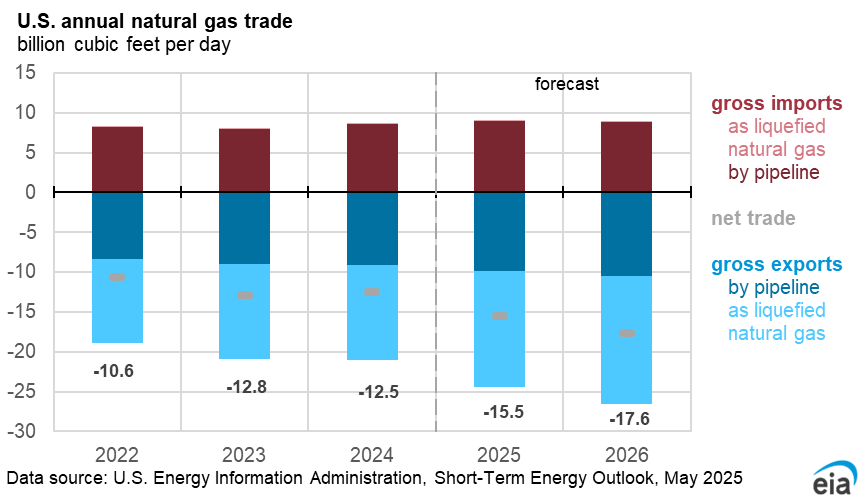 Natural Gas Prices. Henry Hub spot prices averaged $2.57 per million British thermal units (MMBtu) in 2019, down 59 cents/MMBtu from 2018 levels. EIA forecasts that Henry Hub natural gas spot prices will average $2.33/MMBtu in 2020 and $2.54/MMBtu in 2021. EIA expects some upward price pressures to emerge in 2021 because of falling natural gas production that stems from the low prices forecast in 2020. However, falling demand for natural gas should limit upward price movements.