Natural Gas
Natural Gas Consumption. EIA estimates consumption of natural gas in the United States averaged 83.1 billion cubic feet per day (Bcf/d) in 2020, down 2.5% from 2019, and EIA expects U.S. consumption will decrease by 2.3 Bcf/d (2.8%) in 2021 and then decrease by 1.7 Bcf/d (2.1%) in 2022.
The largest natural gas-consuming sector in the United States is the electric power sector. EIA estimates that the power sector will consume an average 28.1 Bcf/d in 2021, which is 11.0% less than in 2020. EIA forecasts that higher prices for natural gas (compared with coal prices) for power generation and rising electricity generation capacity from renewable energy in 2021 will likely cause power sector natural gas consumption to decline in 2021. EIA forecasts power sector consumption of natural gas will fall by an additional 6.2% in 2022, reflecting further growth in renewables and increases in natural gas prices.
EIA expects combined U.S. residential and commercial natural gas consumption will average 22.4 Bcf/d in 2021, up 5.8% from 2020. Compared with the first quarter of 2020, expectations of cooler temperatures and people spending more time at home because of the COVID-19 pandemic will likely lead to slight increases in heating demand in the first quarter of 2021. Based on NOAA forecasts, EIA assumes colder temperatures with 6.4% more heating degree days (HDDs) across the United States in 2021 compared with 2020. EIA expects natural gas consumption in the U.S. residential and commercial sectors to decline by 1.0% in 2022, as the COVID-19 pandemic subsides, reducing heating demand in the residential sector.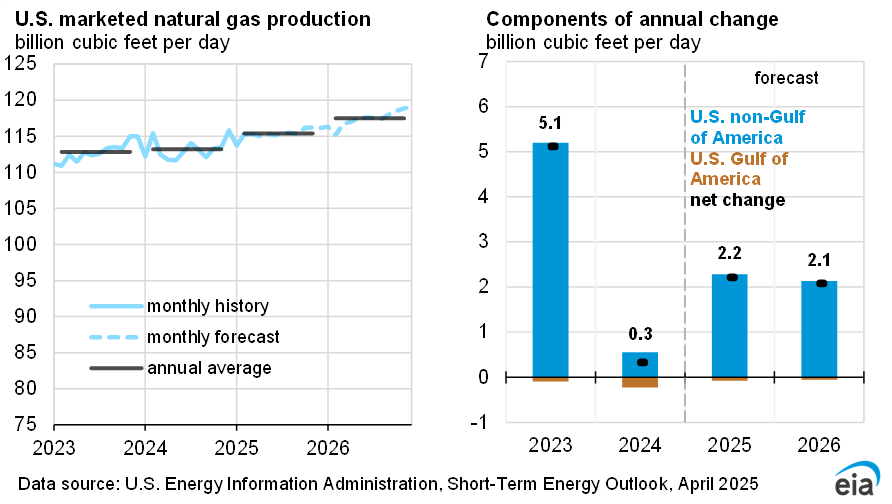 EIA forecasts U.S. consumption of natural gas in the industrial sector will be mostly unchanged in 2021 before increasing by 0.4% in 2022. EIA's natural gas-weighted manufacturing index, based on forecasts from IHS Markit, has steadily increased after falling in the second quarter of 2020; however, EIA's forecast assumes that the natural gas-weighted manufacturing index will not reach 2019 levels until late 2022.
Natural Gas Production. EIA estimates that U.S. production of dry natural gas averaged 90.8 Bcf/d in 2020, down 2.3 Bcf/d (2.5%) from 2019. Natural gas production fell in 2020 as a result of low natural gas and oil prices that reduced drilling activity. EIA expects that natural gas production will decline again in 2021 to an annual average of 88.2 Bcf/d. However, on a monthly basis, EIA expects dry natural gas production will fall down to an average of 87.3 Bcf/d in March 2021, and then rise through the rest of the forecast period. EIA expects that recent increases in oil prices and a forecast of rising natural gas prices will contribute to an overall increase in drilling activity in the coming months that will contribute to production growth after the first quarter.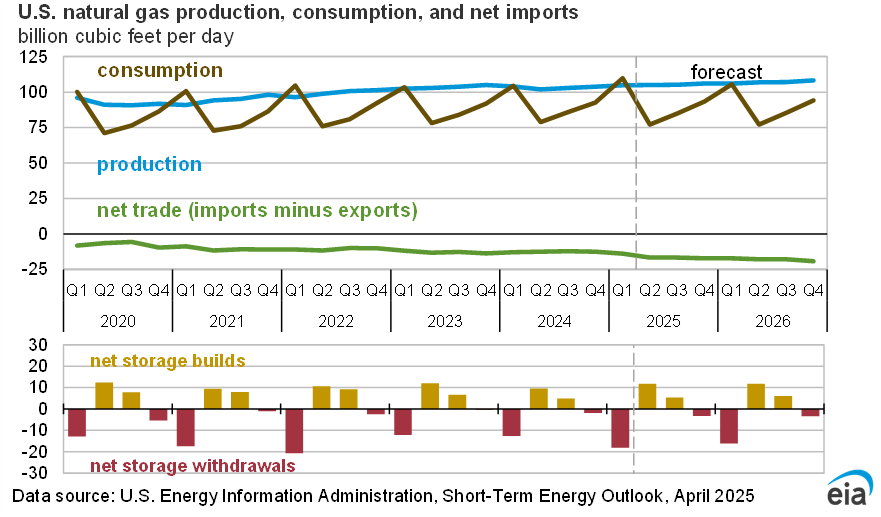 In 2022, EIA expects dry natural gas production to increase by 1.5 Bcf/d (1.7%) from 2021 to reach 89.7 Bcf/d. EIA forecasts continued increases in natural gas and crude oil prices to drive more drilling activity.
Natural Gas Trade. EIA forecasts net natural gas exports will rise from an average of 6.5 Bcf/d in 2020 to 9.8 Bcf/d in 2021 and 10.7 Bcf/d in 2022. The United States has been exported more natural gas than it imports since the second quarter of 2017 because of both rising liquefied natural gas (LNG) and pipeline exports.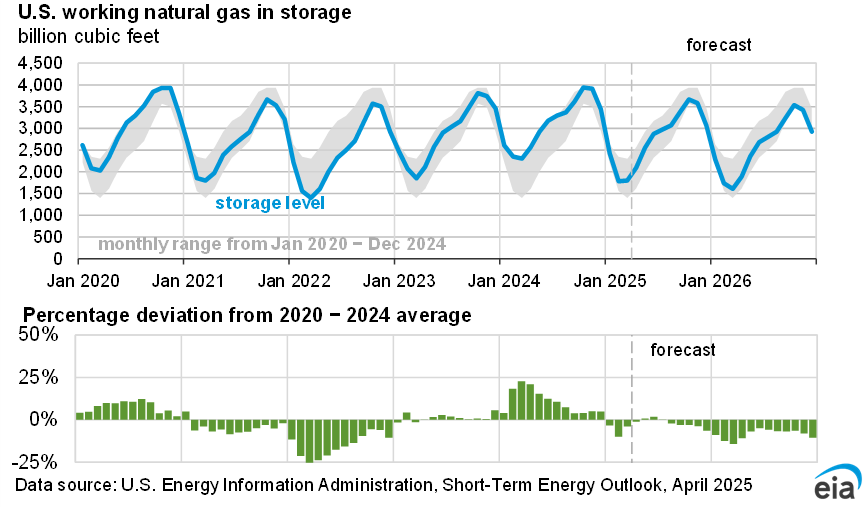 EIA estimates that the United States exported 9.8 Bcf/d of LNG in December 2020, an increase of 0.4 Bcf/d over the previous record set in November. The increase in U.S. LNG exports was driven by rising international natural gas and LNG prices in Europe and Asia, reduction in global supply because of several unplanned outages at LNG export facilities worldwide, and cold weather in key LNG consumption markets, particularly in Asia. Prices at JKM, representing trades in Japan, South Korea, China, and Taiwan, averaged $10.82 per million British thermal units (MMBtu) in December, which was the highest monthly average since 2018.
All six U.S. LNG export facilities operated near full capacity in December exporting a record 89 cargoes (91% utilization of peak LNG export capacity). The third and final train at Corpus Christi LNG facility in Texas was commissioned 6 months ahead of schedule and sent its first cargo in the middle of December. EIA estimates that the nominal liquefaction capacity of LNG in operation in the United States is 9.5 Bcf/d as a baseload and 10.8 Bcf/d at peak across six facilities that include 15 standard-size liquefaction units and 10 small modular liquefaction units.
EIA forecasts U.S. LNG exports to average 8.5 Bcf/d in 2021 and 9.2 Bcf/d in 2022. Forecast growth in U.S. LNG exports is supported by several factors, including a gradual post-COVID-19 recovery in global LNG demand in established markets, high winter LNG demand in Asia, and expansions in global LNG import infrastructure in existing markets with several new countries expected to become LNG importers in the next two years
Pipeline exports of U.S. natural gas have also increased as more infrastructure has been built to transport natural gas both to and within Mexico. U.S. pipeline exports averaged 8.0 Bcf/d in 2020, an increase of 2.5% compared with 2019. Pipeline exports are expected to increase as more natural gas-fired power plants come online in Mexico and more pipeline infrastructure within Mexico is built. EIA expects gross U.S. pipeline exports to Mexico and Canada to average 8.6 Bcf/d in 2021 and 8.7 Bcf/d in 2022.
U.S. net natural gas pipeline imports (almost all of which come from Canada) decreased from 2019 to 2020, continuing a trend that began in 2008. EIA forecasts natural gas pipeline imports to increase 3.8% in 2021 because the United States will import more natural gas amid a decline in U.S. natural gas production. However, pipeline imports will likely decline in 2022 in response to an increase in U.S. natural gas production in 2022.
Natural Gas Inventories. EIA estimates that end-of-December U.S. working natural gas inventories were 3,375 Bcf, 6% more than both the year-ago level and 6% more than the five-year (2015–19) average. EIA forecasts above-average storage withdrawals in the first quarter of 2021 based on an assumption of cooler-than-normal weather in the January–March time period and because of forecast declines in natural gas production. EIA expects total inventories will be 1,620 Bcf at the end of March, which would be 12% lower than the five-year average for that time of year. For the 2021 April–October storage injection season, EIA expects injections will slightly exceed the five-year average rate, as forecast production begins growing in April and as higher natural gas prices in 2021 will limit the consumption of natural gas in electric power plants during the summer. EIA expects that inventories will reach 3,575 Bcf at the end of October 2021, which would be 5% lower than the previous five-year average for the end of October and 9% lower than at the end of October 2020.
Natural Gas Prices. Henry Hub spot prices averaged $2.03/MMBtu in 2020. Natural gas prices fell through much of 2020 because of sharp declines in LNG exports and industrial-sector natural gas consumption outpaced declines in production and contributed to inventories building at a faster rate than the five-year average.
Although Henry Hub spot prices rose late in 2020 to average $2.59/MMBtu in December, a warm early winter moderated price increases. EIA expects the average spot price of natural gas to increase to $3.01/MMBtu in the first quarter of 2021. The price forecast is based on expectations of slightly cooler-than-normal weather in the first quarter. However, the fourth quarter of 2020 was warmer than average. If warmer-than-average weather persists in the second half of winter, it could contribute to downward pressure on natural gas spot prices in the January–March period. In 2021, EIA expects general upward price pressures amid relatively low natural gas production, meaning higher prices will be needed in order to increase production and balance the supply and demand of natural gas. EIA forecasts the spot prices to average $3.01/MMBtu in 2021, up 98 cents/MMBtu from 2020, and increase further to an average of $3.27/MMBtu in 2022.