Natural Gas
Natural Gas Consumption. EIA expects the most significant effects of COVID-19 related restrictions on natural gas demand to occur in the industrial sector. EIA forecasts that industrial demand for natural gas will decrease by 7% in 2020 compared with 2019. The decline reflects a reduction in economic activity, leading to a declining forecast natural gas-weighted manufacturing index through October 2020. The industrial demand for natural gas forecast is particularly sensitive to macroeconomic conditions, and the size and pace of the forecast economic contraction and the subsequent expected economic recovery significantly affect industrial demand for natural gas.
The May STEO assumes minor shifts in space heating demand in April as more people stayed at home rather than go to work or shop at retail establishments as a result of restrictions related to the COVID-19 pandemic. This shift increases residential natural gas demand for a given temperature level while decreasing commercial natural gas demand. Commercial natural gas demand will decrease further in the near term under the assumption that restaurants and other food establishments, which use more natural gas for cooking food and for hot water heating compared with other segments of the commercial sector, will see a particularly high number of closings.
The May STEO forecast assumes that a combination of lower global natural gas demand as a result of restriction related to the COVID-19 pandemic and an unfavorable liquefied natural gas (LNG) pricing environment will lower U.S. LNG exports, primarily in the third quarter of 2020.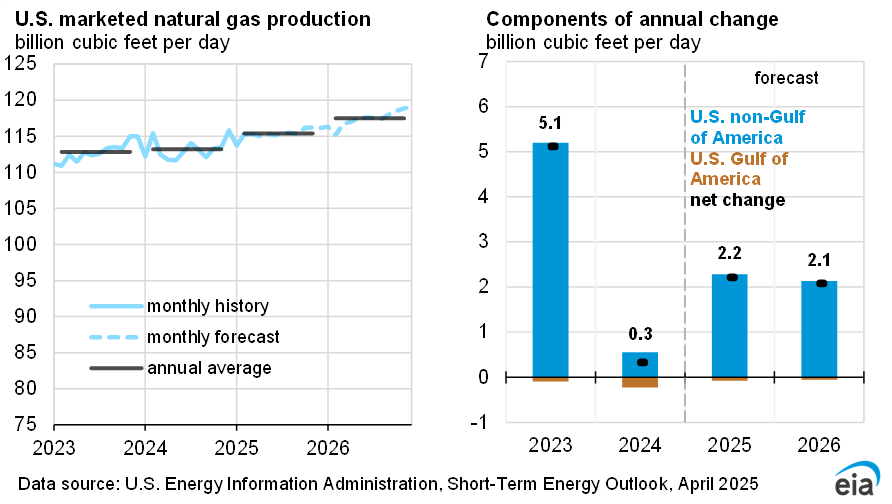 Natural Gas Supply. EIA's model for natural gas production in the Lower 48 states includes structural parameters that reduce the forecast for rigs and wells when the West Texas Intermediate crude oil price falls lower than $45/b or the Henry Hub natural gas price falls lower than $2 per million British thermal units (MMBtu), based on historical trends. In addition to this model-based drop, EIA assumes a further 30% reduction in activity on average in the second quarter of 2020 and a 6% reduction in the third quarter of 2020 to account for the unprecedented effects of travel restrictions related to COVID-19 on the level of drilling activity; many producers have already announced plans to reduce capital spending and drilling levels.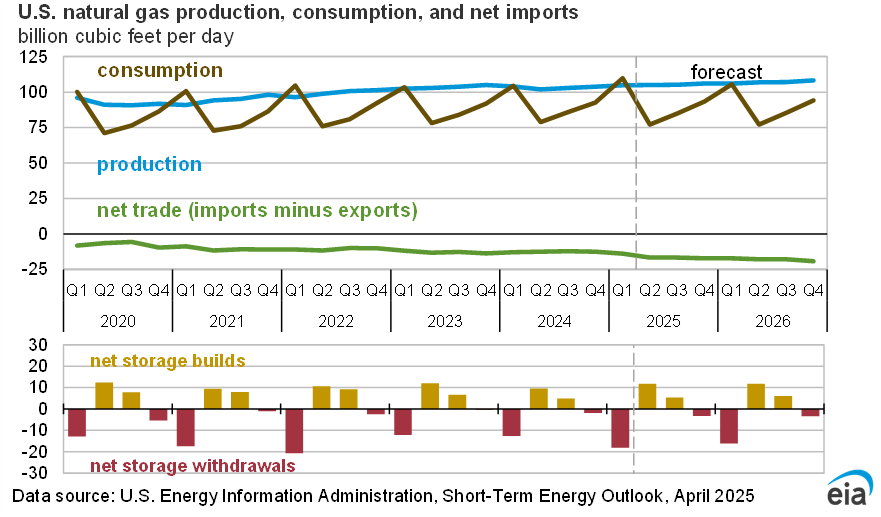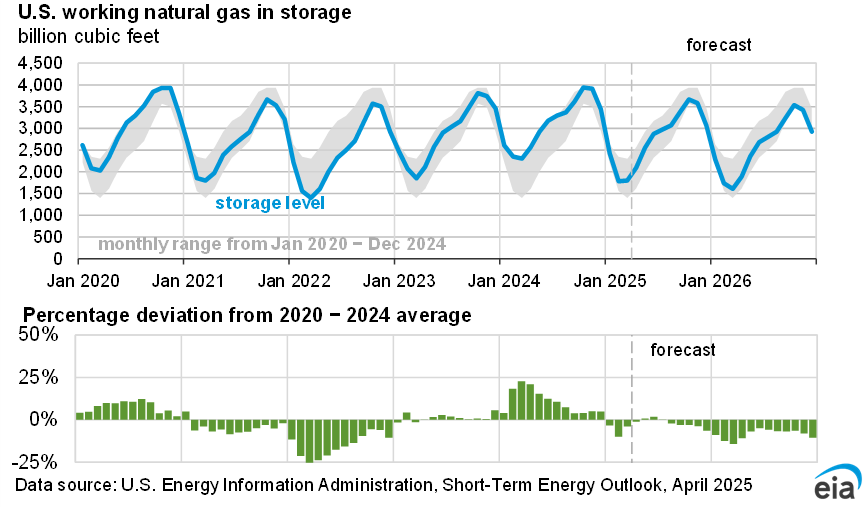 Natural Gas Inventories. EIA's natural gas storage forecast assumes an injection season (March through October) storage build that is slightly higher than average because natural gas consumption is forecast to decline relatively quickly in the second quarter of 2020, while production also declines but at a slower rate. In addition, reductions in economic activity reduce natural-gas fired electricity generation. EIA assumes that end-of-October storage levels in 2020 will be almost 4.2 trillion cubic feet, which would be the largest U.S. natural gas storage inventory on record.
Natural Gas Prices. The May STEO assumes that the Henry Hub spot price will remain low compared with historical levels in the near term as reduced business activity and higher-than-average storage levels entering the summer injection season contribute to keeping prices low. In the third quarter of 2020, slowing natural gas production, combined with increasing industrial demand and higher winter demand for space heating, encourage increases in the natural gas price. EIA expects the Henry Hub spot prices will rise from an average of $2.14/MMBtu in 2020 to an average of $2.89/MMBtu in 2021.