Natural gas
Natural gas consumption
In January and February, below-average U.S. natural gas consumption in the residential and commercial sectors was driven by mild winter weather across large parts of the country, particularly in the Northeast and the Midwest. Based on preliminary data from the National Oceanic and Atmospheric Administration for January and February, the first two months of 2023 combined were among the three warmest on record for that period going back to 1895. In March, we expect natural gas consumption in the residential and commercial sectors to average almost 32 billion cubic feet per day (Bcf/d), which is close to the five-year average, because we expect more normal temperatures in March with a close to average number of heating degree days.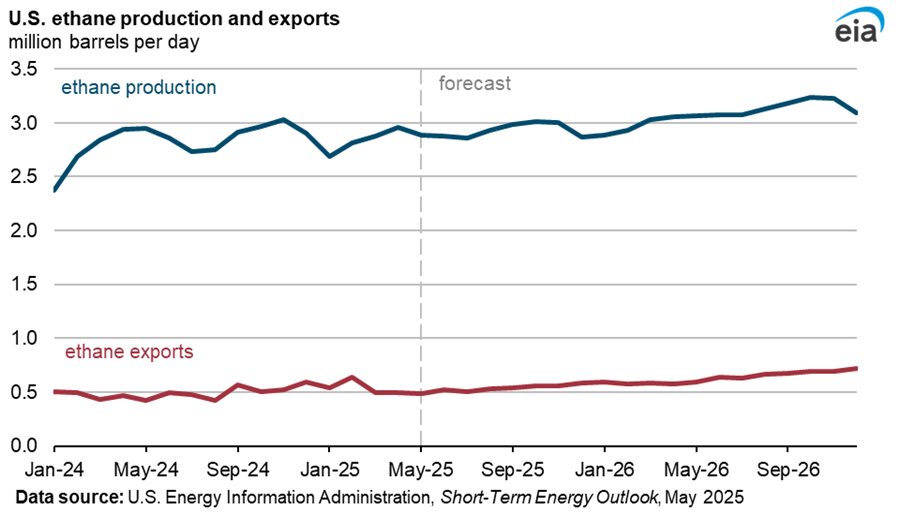 As a result of the mild winter and low natural gas consumption in the residential and commercial sectors, we expect 2.4% (2 Bcf/d) less U.S. natural gas consumption in 2023 than in 2022. Reduced natural gas consumption in January and February slowed withdrawals from natural gas inventories to less than the five-year average and reduced natural gas prices. The spot price of natural gas at the U.S. benchmark Henry Hub averaged $2.38 per million British thermal units (MMBtu) in February, the lowest monthly average since September 2020. Although we reduced our Henry Hub price forecast from last month's STEO, we still expect natural gas prices to increase in the coming months. Price increases in the forecast result from rising demand from Freeport LNG reopening, which shut down last June due to a fire, and seasonal increases in natural gas demand in the electric power sector. In addition, we expect natural gas production will be relatively flat for the rest of 2023 as producers reduce drilling in response to lower prices.
Liquefied natural gas exports
U.S. liquefied natural gas (LNG) exports in our forecast average about 12 Bcf/d in 2023, up 14% from last year. We expect LNG exports to increase by an additional 5% in 2024. The Freeport LNG export terminal's return to service and LNG export projects under construction that will come online by the end of 2024 contribute to rising exports.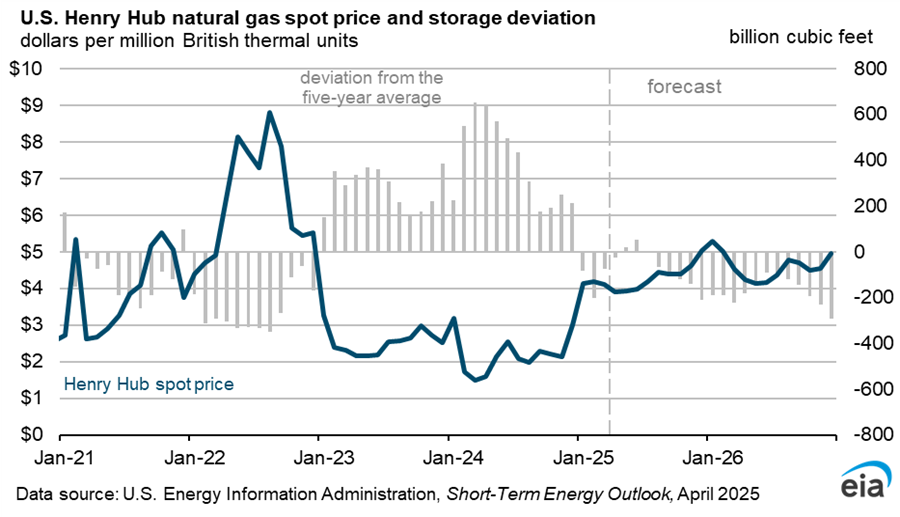 The Freeport LNG terminal can produce more than 2.1 Bcf/d of LNG for export on a peak day, and exports from Freeport averaged 1.9 Bcf/d from January 2021 through May 2022, prior to the full shutdown of the facility in June 2022, according to our Natural Gas Monthly. Because of the Freeport shutdown, U.S. LNG exports averaged 10.0 Bcf/d from June 2022 through December 2022, after peaking at 11.7 Bcf/d in March. The new Calcasieu Pass LNG export facility partially offset the decline in exports from Freeport LNG, with exports from Calcasieu Pass averaging 1.2 Bcf/d since June 2022.
This year, once all three trains at Freeport LNG return to service, we forecast U.S. LNG exports to exceed 12 Bcf/d in most months for the rest of the forecast period. We forecast that U.S. LNG exports will increase to 14 Bcf/d by December 2024 because new LNG export capacity from three major projects under construction are scheduled to come online.