Global oil markets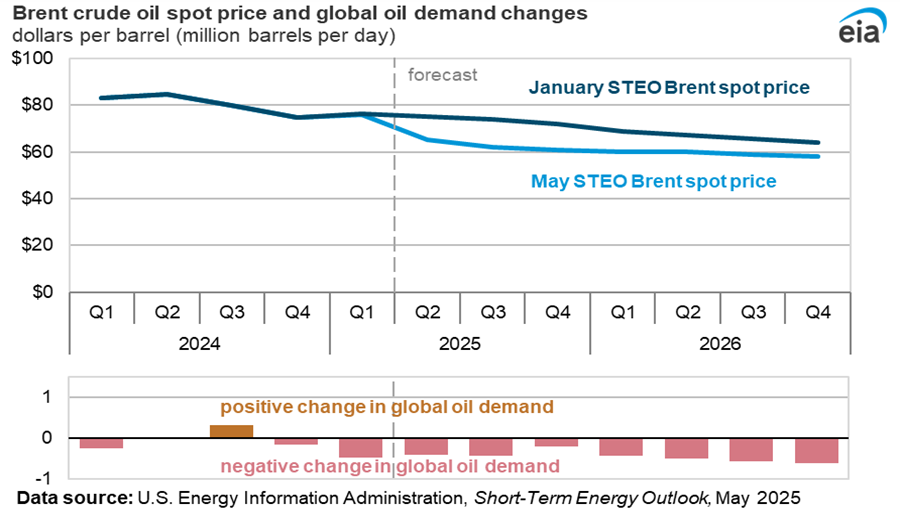 Global liquid fuels consumption
Globally, liquid fuels consumption in our forecast increases from an average of 99.4 million barrels per day (b/d) in 2022 to 100.9 million b/d in 2023, which is 0.4 million b/d higher than in last month's outlook. The higher consumption forecast is primarily driven by upward revisions to global economic growth. We expect China will account for about half of the growth in global liquid fuels consumption in 2023. Forecast consumption in China increases by 0.7 million b/d in 2023. We forecast consumption in India to increase by 0.2 million b/d and other non-OECD consumption to grow by 0.5 million b/d on average. This growth in non-OECD countries counteracts almost no consumption growth among OECD countries in 2023. OECD consumption remains largely unchanged as the effects of inflation continue to limit GDP and oil demand growth.
We forecast global liquids fuel consumption will grow by an additional 1.8 million b/d in 2024, and non-OECD countries will account for 1.6 million b/d of the growth. However, significant uncertainty around our demand forecast remains because a wide range of possible outcomes exist for both global economic conditions this year and travel and oil demand in China following its pivot away from a zero-COVID strategy.
Global liquid fuels production
World liquid fuels production averaged about 100 million b/d in 2022, and we forecast it will rise by an average of 1.6 million b/d in both 2023 and 2024. Despite upward revisions to increasing our forecast of global liquid fuels consumption, we still expect consistent global oil inventory builds over the forecast period as global oil production continues to outpace consumption.
In February, Russia announced it will cut oil production by 0.5 million b/d in March. We already accounted for oil production declines in Russia during this period in our past outlooks. However, Russia's liquids fuel production and exports continue to outpace our expectations as Russia finds buyers in alternative markets. As a result, we have raised our forecast for oil production in Russia through the end of 2024. We expect production of petroleum and other liquids in Russia will decline to 10.3 million b/d in 2023 from 10.9 million b/d in 2022 and then average 10.1 million b/d in 2024, about 0.4 million b/d and 0.3 million b/d more respectively, than we forecast in last month's STEO. More output in Russia contributes to our higher global liquid fuels production forecast. Given this revision to production, we expect that global oil inventories, which rose by 0.4 million b/d in 2022, will grow by an additional 0.6 million b/d in 2023 and 0.3 million b/d in 2024, putting downward pressure on oil prices later in 2023.
Crude oil prices
We expect that the Brent crude oil spot price will fall from an average of $84/b in the second quarter of 2023 (2Q23) to $81/b in 4Q23 and then average $78/b in 2024. Although we expect global oil inventories will build throughout the forecast period, we expect that high demand for crude oil from refineries because of elevated refining margins will limit downward pressure on crude oil prices through 2Q23 as refiners maintain high levels of crude oil inputs to maximize distillate fuel production. Russia was a key supplier of distillate fuel to Europe, and changes in distillate trade flows as Europe reduced imports of distillate from Russia in recent months have kept distillate fuel margins well-above five-year averages. However, we forecast that increasing global oil inventories will contribute to falling crude oil prices beginning in 3Q23.