Electricity, coal, and renewables
Electricity generation
We expect that high temperatures over much of the nation this summer have raised U.S. electricity generation by about 2% during the third quarter of 2023 (3Q23) compared with 3Q22. The increase comes after relatively low electricity demand in the first half of 2023 reduced generation by 4%.
We expect U.S. natural gas-fired power plants will generate a record of more than 1,700 billion kilowatthours (kWh) in 2023, an increase of 7% from 2022. Increased U.S. natural gas generation has been stimulated by a substantial decline in fuel costs, which we forecast to average near $3.30 per million British thermal units (MMBtu) in 2023, down more than 50% from 2022. Between 8 gigawatts (GW) and 9 GW of new natural gas-fired generating capacity this year is also contributing to the increased generation. Although natural gas-fired generation will remain the main source of U.S. electricity in 2024, we forecast that it will decline by 3% in 2024 because of increased generation from renewable energy sources.
Solar and wind have been a growing source of U.S. electricity generation in recent years. The addition of new generating capacity from solar (up by 11 GW) and wind (up by 8 GW) slowed slightly in 2022 compared with 2021 due to supply chain issues that raised costs. However, favorable financial incentives now in place are driving increases in utility-scale solar capacity of 26 GW in 2023 and 33 GW in 2024, which would be the most solar installations for any year on record.
Renewable capacity additions tend to occur at the end of the calendar year and so affect generation trends the following year. We forecast U.S. generation from renewables other than hydropower will increase by 22 billion kWh in 2023 (up 4%) and by 91 billion kWh in 2024 (up 14%).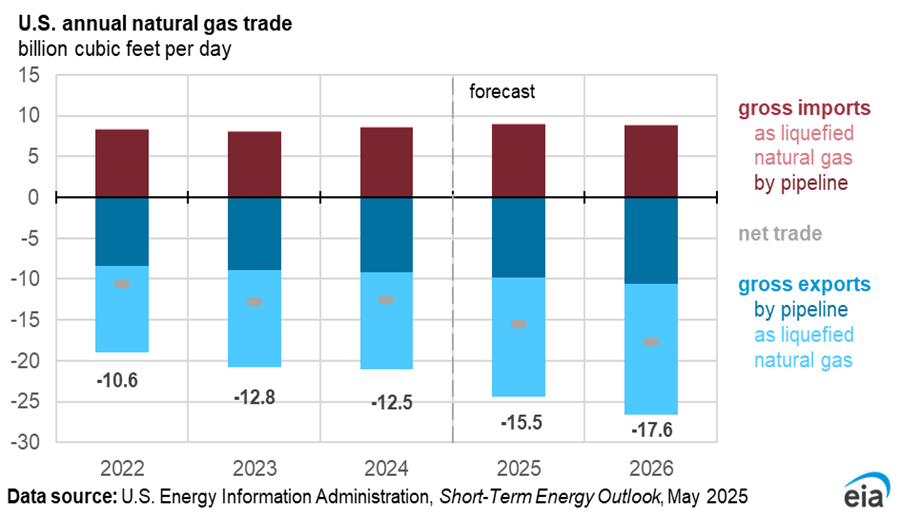 Electricity prices
We forecast the average price of electricity to U.S. residential customers will increase by 4% in 2023 to 15.7 cents/kWh. Electricity prices rose about 11% in 2022 to 15.1 cents/kWh due to increases in the cost of producing electricity. Reductions in the wholesale price of electricity, largely due to lower natural gas prices in 2023, should help lower residential prices in the future; our forecast shows average U.S. residential electricity prices declining slightly in 2024 to 15.6 cents/kWh.
Some of the lowest retail electricity prices in the United States are in the midwestern states. For example, the residential price in the West North Central Census Division averaged about 13 cents/kWh in 2022, and wholesale prices at the Midcontinent ISO averaged 7.4 cents/kWh. In contrast, residential electricity prices in New England averaged 25 cents/kWh in 2022, and the ISO-New England wholesale price averaged 9.2 cents/kWh.
Wholesale power prices are good indicators of the current costs of electricity generation. But retail prices also reflect longer-term costs such as maintaining the transmission and distribution system and procuring capacity to supply future demand. A lag exists between when costs are incurred and when they are reflected on retail electricity bills. These longer-term cost components tend to cause retail price increases over time, despite fluctuations in wholesale electricity prices.
We forecast that wholesale prices for both the Midcontinent and New England independent system operators in 2023 and 2024 will average about 40%–50% lower than in 2022. Electricity customers in the West North Central Census Division may see slightly lower rates in 2023 and 2024, reflecting the lower near-term costs of power generation. However, long-term costs of supplying power continue to increase in New England because of capacity constraints in the region and the reliance on high-cost petroleum-fired electricity generation during periods of very cold weather. These dynamics are reflected in our expected New England retail rate increase of 16% in 2023 followed by a 2% reduction in 2024.
Coal markets
Coal production in our forecast falls to 583 million short tons (MMst) in 2023, 2% less than the 597 MMst mined in 2022. We expect a steeper decline in 2024 when coal production drops 20% to 464 MMst. The reduction in 2024 is due largely to a 20% decrease in electric power sector coal use this year. The delayed response of production to the drop in coal-fired generation results from coal producers fulfilling supply contracts already in place for 2023 and the contracts not being renewed for 2024.
At prevailing prices, coal-fired plants are unable to compete effectively with lower-priced natural gas-fired and renewable energy generation. Poor economics for coal are also resulting in an estimated 9.8 GW (5%) of coal-fired generating capacity being permanently retired this year. Because of greatly reduced power generation from coal, we forecast that inventories of coal held by power companies will increase 60% in 3Q23 compared with 3Q22. Even though we forecast coal stocks to decline slightly by early 2024, the gap between coal produced and consumed will remain wide in 2023 compared with 2022, when high natural gas prices increased summer demand for coal, but labor shortages slowed coal production and delivery, depleting coal stocks.
Coal stocks allow utilities to generate electricity in times of high demand and when coal production is low or coal delivery is slow. Almost 60 GW of coal-fired generation has retired since the end of 2018, a reduction of 25%, and because older units are usually retired first, the current fleet is more energy efficient and needs less stock to produce the same amount of burn days. As of the end of August, we estimate utilities held coal stocks that would cover 140 days of power burn, compared with an average of 76 days over the past five Augusts.