Electricity, coal, and renewables
Electricity consumption
Forecast sales of electricity to U.S. customers increase by more than 2% in 2024 after falling by an estimated 1% in 2023. We expect electricity consumption will grow slightly in most sectors next year, but mainly in the residential sector. Residential electricity use is sensitive to weather conditions. We expect winter temperatures in 2024, as measured by heating degree days (HDDs), will be 2% colder than in 2023. We expect summer temperatures, measured by cooling degree days in our forecast, to be 6% hotter than in 2023. Both a colder winter and a warmer summer increase electricity use by households.
In addition to weather conditions, macroeconomic conditions affect electricity demand in the commercial and industrial sectors. Nationwide, we expect retail sales of electricity to these two sectors to grow slightly in 2024 after a slight decline in 2023. More than 40% of forecast growth in 2024 occurs in the West South Central Census Division where forecast GDP grows by 1.9% next year compared with overall U.S. GDP growth of 1.5%.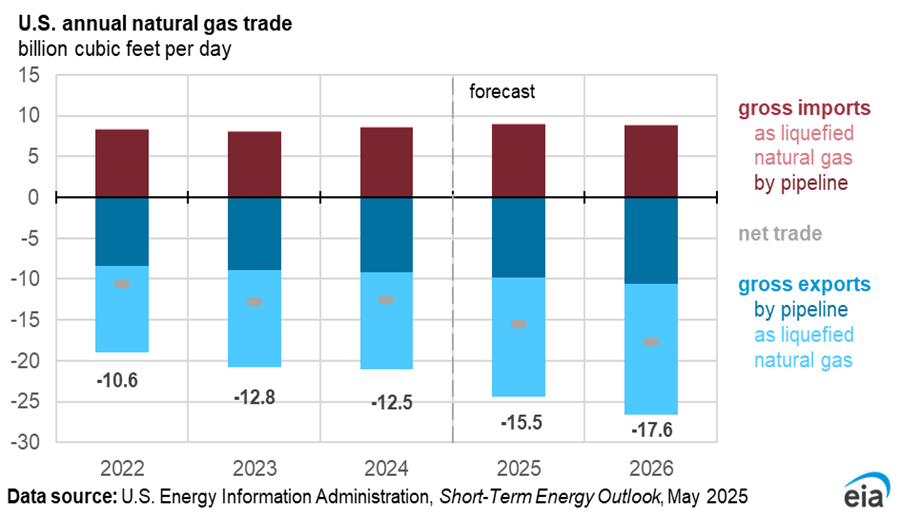 Electricity generation
Generation from renewable energy sources is the main contributor to growth in U.S. electricity generation over the STEO forecast horizon. The share of total U.S. generation from renewables rises from 21% in 2022 to a forecast share of 22% in 2023 and to 24% in 2024. Much of this increase is the result of an expected 60 gigawatts of new solar generating capacity entering service during 2023 and 2024. We believe that the solar capacity increase, in addition to our forecast of increased hydropower generation and modest gains in new wind capacity, will reduce generation from fossil fuel-fired power plants. We forecast the U.S. natural gas generation share will fall from its record high of 42% in 2023 to 41% in 2024, while coal's generation share continues to fall from 16% to 15%.
About one-third of the forecast growth in solar capacity occurs in the Texas electricity market. Natural gas is the largest source of power in that market, and we expect the share of generation from natural gas in Texas will fall from 46% in 2023 to 41% in 2024, replaced by a significant increase in generation from solar. New solar and wind capacity also is being added in the Midwest electricity region, which we expect will lead to reduced generation from coal-fired power plants.
Coal markets
Coal production in our forecast totals 585 million short tons (MMst) in 2023 and falls by more than 100 MMst in 2024. The large decrease next year is due to falling demand from the U.S. electric power sector. Reduced coal production is also a consequence of relatively full coal inventories held by electric generating plants, in late 2023 there is 50% more coal held by plants than in mid-2022. Even though coal prices have fallen due to demand reductions, coal-fired power generation is still not cost competitive based on our expectations that natural gas prices for electric generation will average about $3.50/MMBtu in 2024.
Declines in U.S. coal production from less domestic demand are partially offset by a return of demand from export markets to pre-pandemic levels. We forecast that exports will rise by 13% to reach 97 MMst in 2023, before again falling to 94 MMst in 2024. Exports fell to 69 MMst in 2020 though they returned to 86 MMst in 2022. The increase in coal exports to pre-pandemic levels is made up of both steam and metallurgical coal exports to customers in Europe and Asia. Exports to Europe have been bolstered by a ban on the import of coal from Russia due to the conflict in Ukraine.